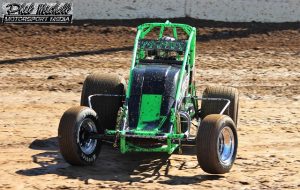 Chadwick and Brown the Latest SA Wingless Winners
Joel Chadwick continued on his winning way at the Murray Machining and Sheds Murray Bridge Speedway last Saturday night as he won his third consecutive A-Main of the Murray Bridge season. Chadwick's latest performance almost produced a clean sweep of the evening with his only defeat coming at the hands of Matthew Kennedy in heat 2.
After starting on the front row Chadwick led every lap of the A-Main, that was eventually shortened due to a number of cautions. Although he was out front all race, he was kept extremely honest by Matthew Kennedy, who was fired up after being sent to rear of heat 3 for being deemed as the primary cause of a racing incident.
After running in position four in the early stages of the final Cody Atkins got the better of Anthony Tapley to finish on the podium while Tapley, Jason Bolitho, Brad Evans, Ben Harris, Aaron Doe, Anthony McMillan and Jaime Lee Andrews completed the top 10.
In addition to Kennedy and Chadwick the remaining heat winners of the night were Cody Atkins, who is really starting to get a handle on the John Forrester owned #76, and Anthony Tapley.
Heat four saw the demise of Jamie Crafter who rode a wheel and rolled heavily in turn one severely damaging the chassis.
With 22 cars in the pit area a B-Main was required to establish the final starters in the 20-car main event with Darryl Sloan, Patrick Monaghan, Daniel Smith and rookie Nicole Southby making the cut.
Just prior to New Years the Wingless Sprints returned to the Riverland Speedway at Renmark for the first time in a couple of years with a dozen cars putting on a great display for the large crowd on hand.
Throughout the evening heat wins went the way of Jason Bolitho (2) and local Shane Hammerstein but it was Mildura's Jay Brown who emerged with the A-Main victory. Jack McCarthy, who had won his last start at the Timmis Speedway at Mildura, finished in the runner-up position with Shane Hammerstein, Travis Beasley and Roydn Bailey completing the top five. Jordon Bolitho, rookie Tamika Pitcher, Brad Beasley, Anthony McMillan, Jason Bolitho, Melissa McMillan and Latisha Helyar rounded out the field.
A small but competitive field of Wingless Sprint racers will hit the road and head west this Saturday night (January 12) to contest a Club Show at the Westline Speedway at Whyalla. Australian Champion Joel Chadwick, Anthony Tapley, Cody Atkins, Normie Moore, Tamika Pitcher and rookie Mark Taylor will attempt to put on a show for the race fans at the opening Westline Speedway event of 2019.
Release by Phil Michell