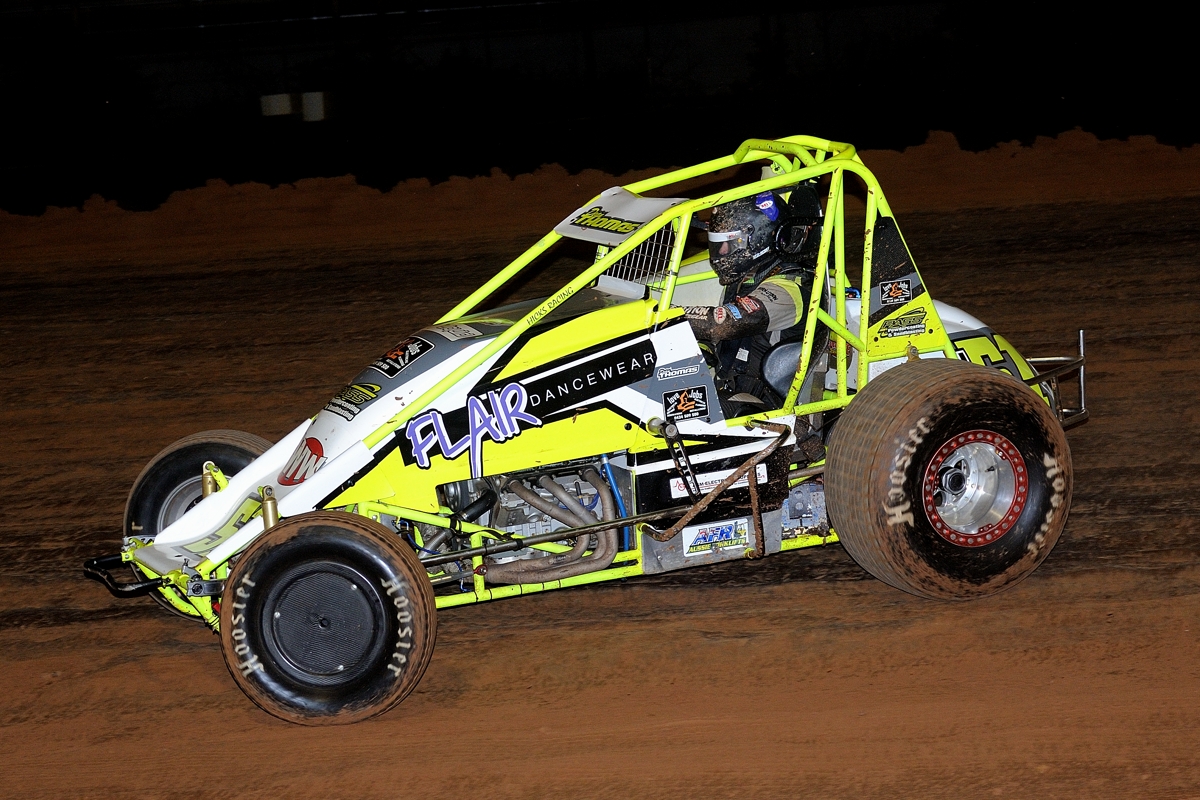 Dean Thomas is one versatile driver. Whether it's behind the wheel of his Ultimate Sprintcar or his Wingless Sprint, he can turn heads and once again did that on Saturday night at Valvoline Raceway, taking out the 20 lap Wingless Sprints main event.
Thomas led every lap of the race, a race which had plenty of wheel to wheel action to record his fourth win of the season. Second to the finish line was Harley Smee who set himself up nicely early in the race when on the second lap, he went from dep inside the top ten to fourth and then onto third a lap later. After gaining another spot into third, he managed to grab a second place finish on the final lap.
Third was Sean Dicker who had a front row start for the main event and spent the majority of the race in second before slipping to third late in the proceedings.
Fourth and fifth were the two combatants in the Aussie Forklift Repairs Club Championship – Daniel Flood and Jason Bates. Flood had the advantage at the chequered flag and has, in recent weeks, closed the points gap dramatically.
Rounding out the top ten was Sean Mayo, Marshall Blyton, Mark Blyton, Zac Pacchiarotta and Brian Briton.
Jarrad Rust came home eleventh followed by Ashleigh Jack, Jamison Blyton, Jamie Dicker, Nikki Briton, Cody Boulding, Rod Thomas, Troy Baker, Jeff Neve, Michael Sammut, Luke Sayre, Peter Granger and Mitchell O'Brien was the final finisher. The only non-finisher of the race was John McRae.
Earlier in the night, six heats were run with wins going to Sean Mayo, Zac Pacchiarotta, Daniel Flood, Jason Bates, Mark Blyton and Marshall Blyton.
The B-Main was won by Jeff Neve ahead of Michael Sammut, Peter Granger and Cody Boulding.
Daniel Flood was the highest on points after the heats and drew and inversion 8 for the A-Main.
As the points stand, with only one round remaining of the Aussie Forklift Repairs Club Championship, Jason Bates holds a slender lead over Daniel Flood. It should be noted that once the final round his held, drivers are to drop their worst scoring round. The unadjusted points are as follows:
Jason Bates – 1826
Daniel Flood – 1810
Mark Blyton – 1776
Marshall Blyton – 1730
Troy Carey – 1684
Sean Dicker – 1656
Harley Smee – 1616
Luke Sayre – 1576
Sam Louttit – 1540
John McRae – 1472
The next event for the NSW Wingless Sprints will be the season ending 50 Lapper to be held at Valvoline Raceway on the June long weekend. A big field, including interstaters, are expected for the event.