In Saturday night's annual Peter Merrett Trophy race for Wingless Sprints at Simpson Speedway, local Mathew Balcombe couldn't be stopped, going flag to flag in the feature race to claim the victory.
While it was defending Peter Merrett Trophy Champion and newly-crowned Victorian Champion Glenn Watts who lined up in pole position for the 25-lap feature race, it was Balcombe who made the best of the start, immediately pipping the pole-sitter for the lead at the drop of the green flag and going on to maintain it for the duration of the race to claim the win.
Each scoring their season-best results, Carly Walsh and Jason Langdon both put in a great drive to complete the podium in second and third respectively. After starting towards the rear of the field in 14th, Geoff Cook delivered an impressive performance to finish just off the podium in fourth, ahead of Mick Rigby, who managed to improve five positions to round out the top five finishers.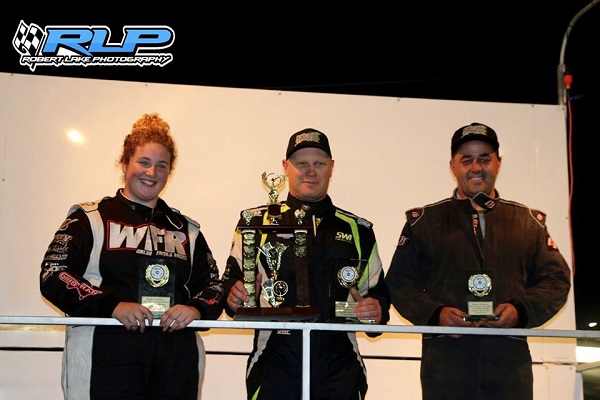 Photo: Robert Lake Photography
Remaining finishers were Jeremy Beddison, Peter Merrett (grandson of the race's namesake), Tyson Bartlett and Mick Uebergang.
It was a disappointing end to what had been a positive night for Watts, who was forced to retire to the infield, after having run over some debris on the track on lap 11 while running second, while the in-form Michael Skene, Bianca Klemm, Trevor Bullock, Graham Payne, Warren Sell and Ray Klemm also suffered premature retirements due to a range of mechanical issues.
Watts was the one to watch in the earlier heat races, coming away with two wins and a second-place finish, while Balcombe also managed to double up with two wins, with Langdon and Weel claiming the remaining heat-race wins. Beddison was a model of consistency with a second and two thirds, while Walsh also impressed, scoring two runner-up finishes.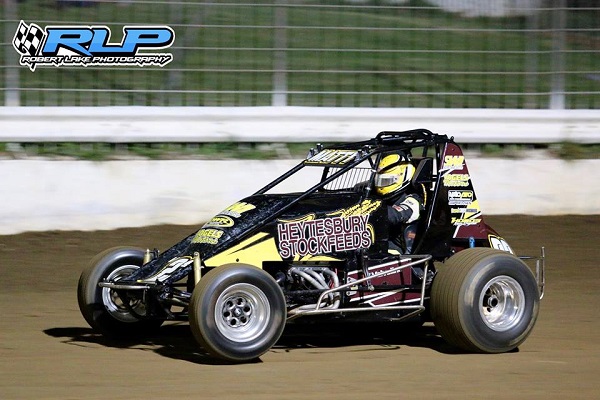 Photo: Robert Lake Photography
For their next appearance, the Victorian Wingless Sprints will head to Rosedale Speedway on Good Friday (April 14) for the third Autobarn Eastern Challenge round, followed by the fourth and final round at Bairnsdale Speedway the following night. These two nights will double as the annual Gary Bowden Memorial event.
For more information about the Victorian Wingless Sprints, visit their website at www.awsr.com.au/vic. You can also LIKE them on Facebook by searching Victorian AWSR Wingless Sprintcars.