A handful of interstate invaders will be hoping to overthrow the host state natives, when they take to the Lismore Speedway track this Easter Sunday (April 16) to battle it out in what will be the second attempt to run the 2017 NSW Wingless Sprint Title.
Leading the charge for the NSW locals, defending Queensland Champion Trent Martin is sure to be a genuine threat and will be well practiced for his NSW Title campaign, having planned to contest the Queensland Title and opening round of the Ian Boettcher Race Parts Easter Trail on Good Friday (April 14), along with the final Easter Trail round on Easter Saturday (April 15), as have a number of other drivers.
Heading up the interstate field will be former NSW Champion Adam Butler, who will be hoping to regain the NSW Champion mantle. He finished fifth in last season's NSW Title. Off the back of scoring his breakthrough feature-race win at Brisbane's Archerfield Speedway earlier this season, young Brisbane-based rookie Cody O'Connell will certainly be one to watch, as will Bugden brothers, Jaymee and Michael, who will also be flying the flag for Queensland, along with Mick Lampard, Hayden Jones and Steven Gravino.
Piloting the Tony Powell-owned NSW # 2 machine and heading the strong NSW line-up, Robert Mazzer is sure to be one of the local favourites heading into the event, having already driven to feature-race victory this season, while David Eggins and Mick Santin, both from Lismore, are also likely front-running contenders.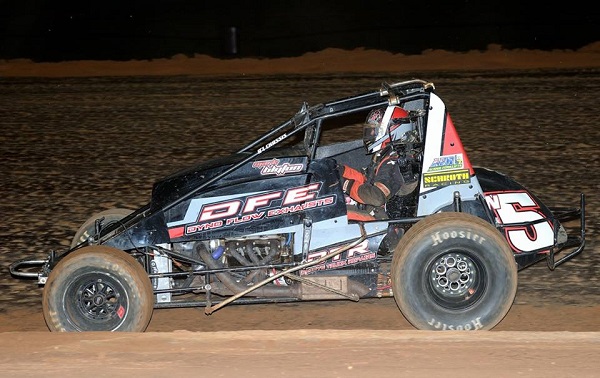 The father and son outfit of Graham and Daniel Flood will be ones to watch, with Daniel having previously tasted feature-race success recently this season as well as being a fourth-place finisher in last season's NSW Title, while Dubbo's Mark Blyton and his sons, Marshall and Jamison, will join the field, along with recent feature-race winners Michael Gray and Goulburn's Peter Granger.
Sydneysiders Luke Sayre, Jeff Neve, Chad Larkings, Ashleigh Jack and youngster Zac Pacchiarotta are set to be joined by newcomers Bradley Claridge and Harley Thistleton, who is in the Paull Farrall-owned WA # 50 car, and they will all be hoping to come away with a positive result.
Other competitors from the host state include Adam Bailey, Mason Cattell, Max Risbridger, Steven McInnes, Natasha Herne, Lawrence McDougall, Matthew Wright, Kevin Willis, Matthew Walker, Scott Marsh, Cody Boulding, Warren King, Kris Johnson, John Slack, Michael Butcher and Daniel Morison.
This is the second attempt to run this season's NSW Title, following the rain out of the first attempt earlier in the year.
The NSW Title format will see drivers contest three rounds of heat races and a B main, culminating with the NSW Title-deciding feature race.
For more information on the AWSR, visit their website at www.awsr.com.au or LIKE them on Facebook or Follow them on Twitter by searching Australian Wingless Sprint Racing.
NSW Wingless Sprint Title Nominations:
N2 Robert Mazzer
N5 Mark Blyton
N7 Jeff Neve
Q15 Hayden Jones
N15 Jamison Blyton
N16 Ashleigh Jack
Q16 Steven Gravino
N17 Lawrence McDougall
Q17 Adam Butler
N25 Marshall Blyton
N38 Michael Santin
N42 Zac Pacchiarotta
N44 Natasha Herne
N49 Bradley Claridge
Q49 Cody O'Connell
N50 Graham Flood
W50 Harley Thistleton
N56 Michael Gray
N58 Luke Sayre
Q60 Mick Lampard
N60 Daniel Flood
N61 Peter Granger
N66 John Slack
N80 Trent Martin
Q90 Jaymee Budgen
Q92 Michael Budgen
N95 Kristopher Johnson
N105 Max Risbridger
N108 Daniel Morison
N110 Matthew Walker
N111 Kevin Willis
N114 Adam Bailey
N133 Steven McInnes
N136 Michael Butcher
N151 Scott Marsh
N156 Mason Cattell
N160 Chad Larkings
N171 David Eggins
N183 Matthew Wright
N198 Warren King
N199 Cody Boulding