It's gearing up to be a huge Easter weekend for Wingless Sprints in the state of Queensland, commencing with their Queensland Title, supported by Speedway Queensland, at Toowoomba's Hi-Tec Oils Speedway on Good Friday (April 14), which will double as the opening Ian Boettcher Race Parts Easter Trail round.
With the Queensland Title launching the first of what will be three consecutive nights of racing, with a number of competitors also contesting the second and final Easter Trail round, supported by Oztrack Earthworks, at Brisbane's Archerfield Raceway, followed by the NSW Title at Lismore Speedway on Easter Sunday, drivers will no doubt be hoping to achieve the best possible start to their Easter long weekends.
After winning last season's running of the event at Maryborough Speedway, defending Queensland Champion Trent Martin (NSW) will be attempting to go back-to-back to retain his crown, while former NSW Champion Adam Butler will look to pip the Lismore-based racer to take top honours.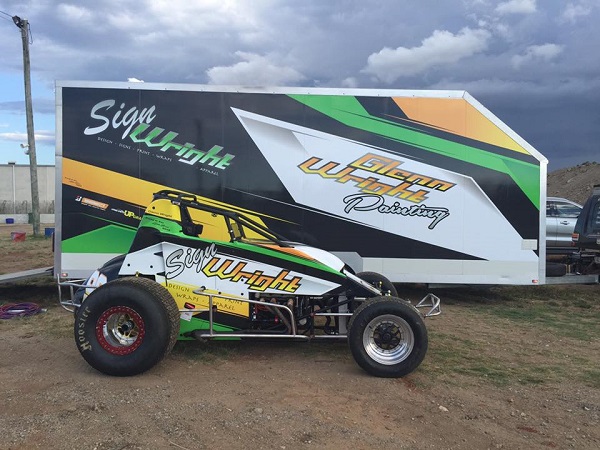 Fast-paced Glenn Wright, who has collected a feature-race win this season along with a number of minor podium finishes, will surely be one to watch, along with another consistent front-runner in Mackay's David Lindsay. Also amongst the nominations are the Bugden brothers, Jaymee and Michael, who are always competitive and are no doubt aiming to perform well.
Lismore's David Eggins (NSW) will be expected to fare strongly, as will experienced hard-charger Robert Mazzer (NSW) and Dubbo-based Blyton siblings, Marshall and Jamison (NSW), along with their dad, Mark. Marshall is a former Queensland Champion, having won the 2015 running of the event at Archerfield Speedway. Another father and son duo in Graham and Daniel Flood are also not to be discounted, with Daniel being a consistent front-runner in his home state of NSW.
Michael Gray (NSW) will be looking to repeat his previous winning form, having claimed a feature-race victory at Grafton Speedway earlier this season. Sydney-based drivers Jeff Neve, Ashleigh Jack, Luke Sayre, Chad Larkings and impressive rookie Kyle Mock also joining the field, along with young Brisbane-based rookie Cody O'Connell and remaining NSW competitors Kevin Willis, Mason Cattell, Warren King, Matthew Wright, Cody Boulding, Natasha Herne, John Slack and Michael Butcher.
Completing the Queensland line-up will be Jason King, Steven Gravino, Mick Lampard, Geoff Davey, Hayden Jones, Timothy Harris, Andrew Robinson, Kristopher Jennings, Paul Robinson, Brendan Webber, David Ellis and Dan Lebeter.
The Queensland Title format will see drivers contest three rounds of heat races, a B main, and the 30-lap Queensland Title-deciding feature race.
For more information on the AWSR, visit their website at www.awsr.com.au or LIKE them on Facebook or Follow them on Twitter by searching Australian Wingless Sprint Racing.
Queensland Wingless Sprint Title Nominations:
N2 Robert Mazzer
Q3 Dan Lebeter
N5 Mark Blyton
Q5 David Ellis
N7 Jeff Neve
Q15 Hayden Jones
N15 Jamison Blyton
N16 Ashleigh Jack
Q16 Steven Gravino
Q17 Adam Butler
N25 Marshall Blyton
Q28 Paul Robinson
Q43 David Lindsay
N44 Natasha Herne
Q49 Cody O'Connell
N50 Graham Flood
N56 Michael Gray
N58 Luke Sayre
Q60 Mick Lampard
N60 Daniel Flood
N66 John Slack
Q69 Jason King
Q70 Kristopher Jennings
Q74 Geoff Davey
Q75 Timothy Harris
N80 Trent Martin
Q82 Andrew Robinson
Q90 Jaymee Budgen
Q92 Michael Budgen
N97 Kyle Mock
Q97 Brendan Webber
Q99 Glenn Wright
N111 Kevin Willis
N136 Michael Butcher
N156 Mason Cattell
N160 Chad Larkings
N171 David Eggins
N183 Matthew Wright
N198 Warren King
N199 Cody Boulding