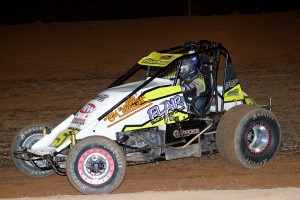 Dean Thomas has yet again excelled the field on Saturday night at Valvoline Raceway and charged home to win the 2018 NSW Wingless Sprints Championship.
Thomas started from position four in the twenty-five lap main event and on lap nine took the lead and worked overtime to build up a big gap.
Such was the domination, there was a gap of almost two seconds back to second placed Mark Blyton.
The veteran came from ninth on the grid to score a podium finish and signal an ominous warning to his competitors for the upcoming Australian Title. It is interesting to note about the Dubbo-based driver is that by lap three he was up to third, where he stayed until lap nineteen, when he moved into second.
Third was Jason Martin. In a race that impressed a lot of people, Martin was on fire all night, in just his third Parramatta meeting of the season, blasting through the pole shuffle to secure a front row start for the final. After spending the majority of the race in fourth, he made his move into third with just five laps remaining.
Fourth was NSW Northern Rivers based David Eggins and fifth was Jamie Dicker who has had a very consistent season to date.
Rounding out the top ten was Troy Carey followed by Ashleigh Jack, Jason Bates, Travis Millar and current Australian Champion Joel Chadwick. The South Aussie had his hands full all night having to come from the B-Main.
Luke Sayre was eleventh home followed by Jason Davis, Victorian Luke Wheel, Michael Butcher, Kevin Willis, Mitchell O'Brien, Peter Granger, Jarrad Rust, Daniel Hartigan, Brian Briton and Kyle Angel was the final finisher.
Non finishers were Leighton O'Brien, Sean Dicker and Jeff Thomas.
It was the worst possible start for Jeff Thomas, getting upside down on the first corner of the main event. He emerged ok from the car.
Earlier in the night ten heat races were contested. Wins went the way of Peter Granger, Michael Butcher, Kyle Angel, David Eggins, Joel Chadwick, Jason Martin, Travis Millar, Jason Bates, Leighton O'Brien and Dean Thomas.
The winners of the two B-Mains were Mitchell O'Brien and Sean Dicker.
The next event for the NSW Wingless Sprints will be the 2018 AWSR Australian Championship on Friday and Saturday, February 2 and 3 at Valvoline Raceway.