In what was a hotly-contested 2017-18 season NSW Wingless Sprint Title at Sydney's Valvoline Raceway last Saturday night, it was local front-runner Dean Thomas who managed to come away with the winning spoils.
With the sizeable field of over 60 drivers each hoping to achieve a solid result ahead of the upcoming Australian Championship at the Sydney venue in less than a fortnight, Thomas, who is the defending Valvoline Raceway Track Champion, was rapt to claim the NSW Title crown in what he hopes will be a precursor to another winning outcome.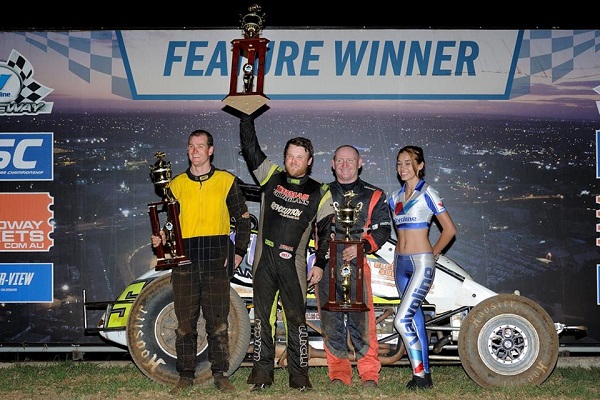 Photo: Gary Reid
While it was Thomas who greeted the chequered flag in first place at the completion of the 25-lap feature race, it was 2016 NSW Champion Jason Bates who took the early lead, capitalising on his pole position start to control the pace out in front for the opening five laps. Bates then became involved in a battle with Thomas, who had come from position four, which saw the pair trade positions multiple times before Thomas ultimately managed to pip Bates for good, going on to lead for the remainder of the distance to take a convincing victory.
Powering forward from position 10, a brilliant drive from veteran Mark Blyton delivered him with a pleasing runner-up finish, after making his way up to third place in the opening stages and later moving into second place with seven laps to go. Despite putting the pressure on Thomas, Blyton was unable to make a passing move, with his car seeming to drop off in the latter half of the race.
It was a special night for Lithgow, NSW-based surprise packet Jason Martin, who experienced a career-best performance to qualify on the outside of the front row amongst a stout field of competitors, eventually coming home in a hard-fought third place, ahead of Lismore's David Eggins and a fast finishing Jamie Dicker, who had started from position 13, in fourth and fifth place respectively.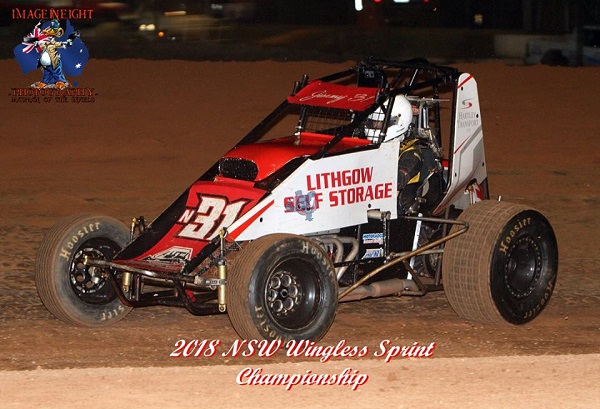 Photo: Crashy's Photos
Next across the finish line in sixth was current Northern Territory Champion Troy Carey ahead of Ashleigh Jack, Bates, who slipped back from second to eighth in the closing 10 laps, Victorian Travis Millar and current Australian Champion Joel Chadwick in 10th. A special mention must go to Chadwick, who did well to salvage a top-10 finish, after a DNF due to a crash in his second heat race saw him start towards the back of the feature-race field after being forced to earn his feature-race start via the B main.
Remaining finishers were Luke Sayre, Jason Davis, Luke Weel, Michael Butcher, Kevin Willis, Mitchell O'Brien, Peter Granger, Jarrad Rust, Daniel Hartigan (WA), Brian Briton and Kyle Angel.
Hartigan, the two-time Australian Champion and first-time Valvoline Raceway visitor, was fighting for a top-five finish with about 10 laps to go, when there was contact in turn two from another rival and it resulted in him spinning out and being order to the rear of the field for the restart. Another interstate challenger, Weel endured a tough night and, like Chadwick, had to earn his feature-race field by qualifying through the B main due to dramas in the earlier heat races and went on to finish in 13th. There's no doubt that the likes of Chadwick and Weel are aiming to start higher up in the feature-race field, so that they can enhance their Australian Championship chances in less than a fortnight's time.
After transferring into the feature race via the B main, 2016 NSW Title runner-up finisher Jeff Thomas hopes came to crashing halt on the opening lap, while Sean Dicker retired after only 11 laps, followed by Leighton O'Brien, whose feature-race run ended just three laps from the finish.
Earlier in the night, the heat-race action saw no drivers score multiple victories, with wins being shares between Granger, Butcher, Angel, Eggins, Chadwick, Martin, Millar, Bates, Leighton O'Brien and Dean Thomas. After being involved in a large crash during heat-race nine, which resulted in five drivers experiencing DNFs, Victorian Clint McLaren was transferred to hospital for investigation into a lower back injury. McLaren was released from nearby Westmead Hospital yesterday morning with no major injury concerns and is now resting back at his home in Geelong.
In B main 1, Mitchell O'Brien came home in first place ahead of Chadwick, Jeff Thomas and Weel, while Sean Dicker was the best in B main 2, taking the win ahead of Briton, Willis and Rust.
Bates emerged on top in the pole shuffle to secure his pole position start in the feature race, with Martin locking out the front row. Eggins and Dean Thomas secured their second row starting positions, ahead of Hartigan and Millar on the third row, while Angel and Sayre completed the fourth-row starters.
Drivers will now prepare to return to Valvoline Raceway, along with an additional 37 contenders from all over the country, for the coveted Australian Championship, which will be held over three days on February 1-3.
For more information on the AWSR, visit their website at www.awsr.com.au or LIKE them on Facebook or Follow them on Instagram and Twitter by searching Australian Wingless Sprint Racing.