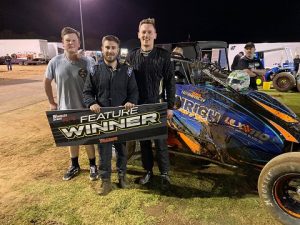 Heinrich Unbeaten In Round 3
By Phil Michell Motorsport Media
Round 3 of the Wingless Sprints SA State Series at the Murray Machining and Sheds Murray Bridge Speedway attracted 26 entries but despite the strong line-up no-one could stop Joel Heinrich from keeping a clean sheet as he won both of his preliminary heat races before leading all 25 laps in the A-Main winning in dominant fashion. In what was an impressive display it was made even more so considering the fact Heinrich was a late entry forcing him to start the heat races from the back of the field.
Second place went to the current South Australian Champion Daniel Storer, who was making his second successive Murray Bridge start with Jake Ashworth taking over the series lead courtesy of a third placed result.
Cody Atkins was solid all evening as he recorded fourth ahead of the hard charger of the night, Jack McCarthy, who started from position 18. Cory Hodgson continued his impressive form in sixth while Brett Ireland, Mark Taylor, Anthony McMillian and Michael Ross completed the top 10.
Rookie Hayden Vickers, Melissa McMillian and Renee Pestka rounded out the finishers.
Some of the big names who ended on the infield included two of the top 3 drivers in the series points with Anthony Tapley and Keke Falland failing to go the distance therefore really shaking up the overall series points.
In addition to Heinrich the other heat winners on the night were Jake Ashworth, Cory Hodgson and the Victorian duo of Daniel Storer and Jeremy Pearson.
Mick Barker was successful in the B-Main, but he was unable to start the A-Main due to a mechanical issue. Jack McCarthy, Michael Ross and Renee Pestka were the remaining drivers to tag onto the back of the final after completing the top 4 in the last chance qualifier.
Mildura's Jordon Bolitho was unlucky not to transfer into the final after leading the B-Main comfortably until contact with the lapped car of Norm Moore cost him the win with only two laps remaining.
Top 10 of 39 After 2 Rounds: 1. S2 Jake Ashworth 312, 2. S47 Anthony Tapley 283 3. S3 Keke Falland 281, 4. S15 Hayden Vickers 268, 5. S27 Cory Hodgson 267, 6. S9 Ben Harris 248, 7. S37 Anthony McMillan 240, 8. S16 Joel Heinrich 237, 9. S71 Brett Ireland 234, 10. S6 Michael Ross 233.
The next event on the South Australian Wingless Sprint calendar will be held at the Riverland Speedway in Renmark on Saturday the 28th of December 2019 before returning to the Murray Machining & Sheds Speedway in the new year on January 4, 2020.