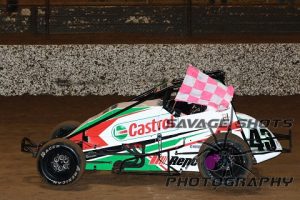 Storer Wins Pink Night – Returns For State Series Rd 3
By Phil Michell Motorsport Media
Last weekend (December 7) the Wingless Sprints returned to the Murray Machining and Sheds Speedway at Murray Bridge with a healthy field of cars fronting in support of the "Ultimate Pink Night". As predicted, it proved to be a battle between Daniel Storer and Joel Chadwick, with the Victorian getting the better of the former Australian Champion, who was making his first appearance of the new season.
After securing a heat win and a runner-up finish in his two heats Storer started the 20-lap final from the front row and he was untroubled as he led the entire distance. Chadwick, who was driving the Joel Heinrich owned #16 Triple X, charged late after running around fifth for most of the race to grab second from Matthew Kennedy with Cody Atkins and Jack McCarthy all scoring a top 5 result.
Mark Taylor working his way forward to record a strong sixth ahead of Ben Harris. Brett Ireland had a tough night as he managed an eighth placed finish after a late spin while Darryl Sloan, Nicole Southby, Tamika Pitcher and Mick Barker completed the finishers.
In addition to Storer the heat winners were Mick Barker, who drove the race of his life to hold out Storer and Anthony Tapley, Matthew Kennedy and Cody Atkins. Heat 2 saw Patrick Monaghan ride out a big crash in turn three after he made contact with a slowing Tamika Pitcher.
The Wingless Sprints will be back again this Saturday night at Murray Bridge for round 3 of the State Series with 24 drivers nominated. The opening two rounds of the series has seen two different winners with Joel Heinrich winning round 1 before Mitch Broome won at the Tolmer Speedway. But both of these drivers have only contested the round in which they won so they are both well down the overall points chart and with Heinrich being a late nomination for round 3 he will be hard pressed to repeat, having to start his heats from the back.
Of the current top 10 in points there are two drivers who won't compete this Saturday therefore there is likely to be a real shake-up of the points chart. But series leader Anthony Tapley will need to be on his game with a quality field including Daniel Storer, Jake Ashworth, Keke Falland, Jack McCarthy, Cory Hodgson, Hayden Vickers, Cody Atkins and the Bolitho's in the field.
The night will see all drivers contest two heats before a last chance qualifier and a 25 lap A-Main.
Top 10 of 35 After 2 Rounds: 1. S47 Anthony Tapley 205, 2. S2 Jake Ashworth 202, 3. S3 Keke Falland 197, 4. S15 Hayden Vickers 188, 5. S21 Matthew Kennedy 185, 6. S9 Ben Harris 173, 7. S6 Michael Ross 166, 8. S27 Cory Hodgson 166, 9. S77 Mick Barker 156, 10. S37 Anthony McMillan 154.