A number of interstate challengers will be making the trek north to pit themselves against the local contingent in this weekend's Northern Territory Wingless Sprint Championship, supported by Winnellie Hotel Motel, at Darwin's Northline Speedway in an attempt to steal the crown away from the Top End.
The battle will be the second in as many weekends, off the back of last Saturday night's Malidook Challenge, with WA-based racer Sam Borlini, who will be piloting the Mike Borchardt-owned NT # 14 car, riding a wave of confidence heading into the NT Championship after winning the event.
Hot on the tail of Borlini and heading up the New South Wales line-up for the second season running will be Tullamore's Troy Carey, who will be looking to go one better after being forced to settle for the runner-up spot last weekend following a strong qualifying performance. Joining Carey in flying the flag for NSW and also returning to Northline Speedway for the second consecutive season will be Nathan Dicker, who will certainly be looking to make amends after a difficult start to his northern campaign, along with Troy Baker and Geoff Piekar.
After travelling 3,800 kilometres to Northline Speedway from his hometown in Pakenham, Tony Moule will be out to prove himself in the NT Championship, after writing off his car last weekend and completing some hasty repairs, along with fellow Victorian Robert Stevenson, who was generously loaned an engine by Mike Borchardt after blowing up his own. Former NT Champion Daniel Evans, from Renmark in South Australia, will be aiming to regain the mantle aboard the NX # 45 machine.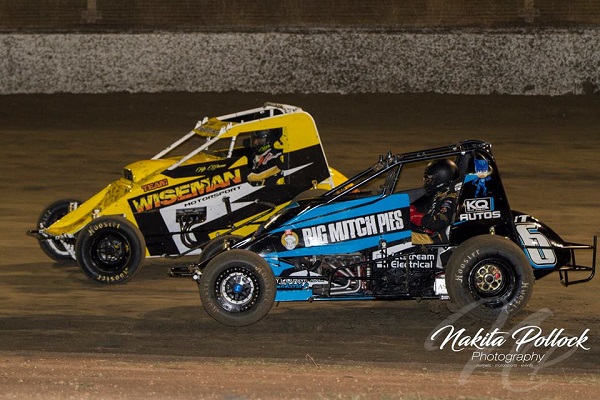 Photo: Nakita Pollock Photography
Leading the charge against the interstaters along with Borlini will be Kyle Wiseman, who is currently contesting his second season in the class off the back of a competitive debut, as well as Kale Quinlan, who is fresh out of Junior Sedans and has already proven his pace, crossing the line fourth in the Malidook Challenge.
Making the move to Wingless Sprints from Speedway Karts this season, Darrin Uniacke will be hoping to come away with a strong result, while Victoria-based Leigh Mugavin, who will be piloting his locally-based car, and Jarrod Garraway will no doubt be ones to watch, as will Sean Tiedeman, Brett Sommerville, Sean Donnelly and Tom Britton, who made a return to racing this season.
Following scrutineering at the track from 12pm on Friday, the NT Championship format will see drivers contest two heat races and a preliminary feature race on the opening night of competition, followed by the final two heat races and the 35-lap NT Championship-deciding feature race on Saturday night.
The AWSR and NT Wingless Sprints would like to thank Winnellie Hotel Motel for their valued support of the NT Championship.
For more information on the AWSR, visit their website at www.awsr.com.au or LIKE them on Facebook or Follow them on Twitter by searching Australian Wingless Sprint Racing.
NT Championship Nominations:
NT2 Jarrod Garraway
NT4 Sean Tiedeman
NT6 Brett Sommerville
NT7 Leigh Mugavin
NT8 Tom Britton
N10 Geoff Piekar
NT11 Kale Quinlan
NT14 Sam Borlini
V30 Tony Moule
N45 Troy Carey
NX45 Daniel Evans
V50 Robert Stevenson
NX72 Troy Baker
NT74 Darrin Uniake
NT77 Kyle Wiseman
NX82 Nathan Dicker
NT98 Sean Donnelly