David Lindsay was triumphant over the field on Saturday at Mac's Speedway, taking out the Mackay #1 ahead of Jack Langley and Ipswitch's Brian Dixon.
The night started with 11 drivers signing in and were divided into two heats per round. The first round saw a few on-track incidents, with Josh Morton riding the left rear of Steven Gravino and David Lindsay spinning mid-way through the heat and passing a car before the cone on the restart resulting in him being relegated from first place to second.
Heat three was clouded under the smoke of Morton's car after an oil line came off, resulting in very low visibility from the cars behind him for several laps before he was shown the Mechanical Black Flag and pulled in field, handing the lead over to Lindsay. Heat four was declared after a car spun just as Langley took the checkers.
The last round offered fast, close racing with slide jobs and some top line passes, and the only DNF went to the Q2 of Brad Keiler from motor gremlins. Heat six only had four cars as Morton decided to park his car for the night after losing so much oil in the previous round. The Q73 of Jamie Rowberry spun on the last lap, so the race finished with Langley leading the field through the green-white-checker.
Lindsay qualified with high points for the feature race ahead of Langley and Gravino, however Gravino decided to withdraw from the race due to brake issues, placing Wayne Todd in the third starting position. Nine cars started the 20 lap A Main, which went relatively incident free until rookie driver Deon Ryan's wheel came off on lap 16 causing him to spin and collecting Rowberry in the process, ending both of their nights. The restart saw Lindsay get the jump over Langley and southerner Brian Dixon, with the Q43 holding the lead for the remaining laps and claiming the victory and Mackay #1. The win will also hand Lindsay the lead in the North Queensland Club Points Championship.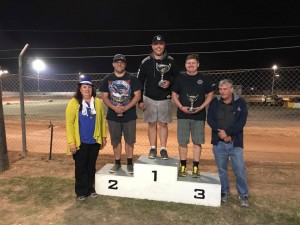 Wingless Sprints Queensland would like to thank the event sponsor, Andergrove Store, for their continued support of Mac's Speedway and the Wingless class, and for presenting the trophies to the top three place-getters.
The next North Queensland round is on Saturday 19th of August at Mac's Speedway.
A Main results: (1st) Q43 David Lindsay, (2nd) Q23 Jack Langley, (3rd) Q20 Brian Dixon, (4th) Q34 Wayne Todd, (5th) Q37 Shane Thompson, (6th) Dan Lebeter, (DNF) Q2 Brad Keiler, (DNF) Q13 Deon Ryan, (DNF) Q73 Jamie Rowberry.