Youngster Matthew Iwanow claimed an impressive victory in last weekend's 2018 Western Australian Wingless Sprint Title at Carnarvon Speedway in the north-west region of the state.
The feature race, which doubled as the Des Nash Memorial, was led by the 20-year-old from flag to flag. Such was the dominance of the victory, he crossed the line over two seconds clear of his closest rival, Tom Payet, to score his maiden WA Title victory.
It was an impressive overall weekend for Iwanow, he claimed three heat-race wins, along with a third-place finish in the preliminary feature race.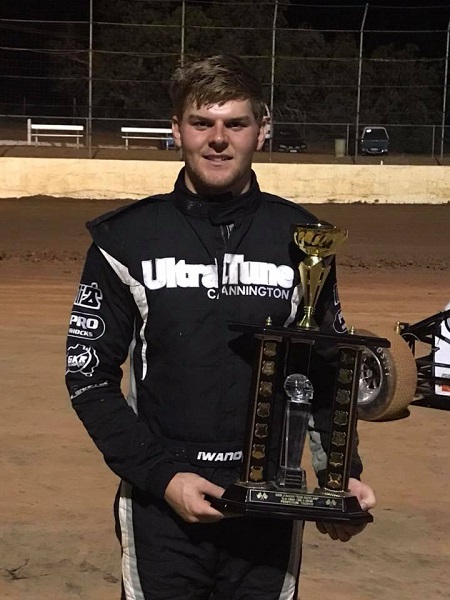 Second at the fall of the chequered flag was Tom Payet. Chasing his fourth WA Title in a row, Payet, driving for Johnny Terriaca-owned WA # 38 Foster car, was a late inclusion in the field and consequently had to start rear of field in his heat races. Racing in just his third meeting of the season, due to his Sprintcar and Speedcar commitments, Payet raced into the second spot with just over 10 laps remaining. Once Payet moved into the second, he set upon chasing Iwanow but in the end had to settle for second.
Two-time Australian Champion Daniel Hartigan completed the podium in third. Coming off a second-place finish in last season's event, Hartigan was looking the goods to repeat that feat; however, her lost the position to Payet with just over 10 laps remaining.
Finishing fourth, and again just missing out on a podium finish, was Brad Fitzgerald. After already claiming a feature-race win this season, Fitzgerald has continued his competitive season and improved on his fifth in last season's event.
Recording a top-five finish was Ash Hounsfield. It was an up and down feature race for Hounsfield as he found himself hovering between positions five and seven for the early portion of the race before settling into fifth on lap 10 and holding that position through to the chequered flag.
Rounding out the top-10 finishers was Brad Taylor, Chad Pittard, former WA Champion Dean Gittos, Cameron Holla and Julian Andreoli. Special mention must go to Holla on his ninth-place finish. He did a tremendous job against tough competition to be the highest finishing local competitor. The remaining finishers were Dylan O'Connor, Cody Dobinson, Dave Worrall and Owen de Boni.
Non-finishers were Warren Hunter, Jayd Matthews, Matthew Burston and last season's WA Title podium finisher Matt Fellowes. Non-starters were Mitchell White and Nathan Condo.
Heat-race wins over the two nights of competition went to Iwanow (x 3), Hartigan (x 2), White, Taylor, and Matthews.
The preliminary feature race on night one was taken out by Hartigan, who had started from position four, ahead of Payet and Iwanow in second and third place respectively.
For further AWSR information, visit their website www.awsr.com.au or LIKE them on Facebook or follow them on Instagram and Twitter by searching Australian Wingless Sprint Racing.