For the second occasion this season at Laang Speedway, last Saturday night Chris Halesworth picked up the Victorian Wingless Sprint club show feature-race victory.
The Geelong, Victoria-based racer defeated a small but competitive field. Second to the line was Ashley Cook with pole sitter Robert Whiteside claiming the final spot on the podium in third.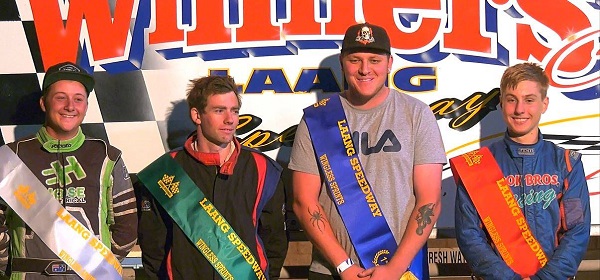 Halesworth led all 20 laps of the feature race, after starting from position two, and had to survive numerous restarts before taking the chequered flag as a comfortable win.
Ashley Cook, son of the recent Victorian Title pole-sitter David Cook, came from the second row of the field and crossed the line in second place. It was an exciting finish for Cook as he made the pass for second on the final corner of the race. In positive signs for the second-generation racer, he improved from his previous finish at the venue in early January when he recorded a sixth-place finish.
Filling the final spot on the podium in third was Horsham's Robert Whiteside. He qualified on pole position for the feature race and was running in second until the last corner when Cook passed him on the inside. Just like Cook, Whiteside improved from his last Laang Speedway visit when he finished in fourth.
Newcomer Daniel Kelly finished just off the podium fourth. The ex-Street Stock racer, from nearby Warrnambool, drove a consistent race and did a great job to fend off the challengers from behind him.
Fresh from his impressive recent runs at both the Australian and Victorian Titles, Clint McLaren rounded out the top-five finishers.
Earlier in the night, the heat-race wins were shared between Halesworth, Cook, Whiteside and Mick Rigby.
The next appearance for the Victorian Wingless Sprints will be on the Saturday night of March 17 for what will be the latest autObarn Super Series round at Mount Gambier's Borderline Speedway (SA).
For more information about the Victorian Wingless Sprints, visit their website at www.awsr.com.au/vic. You can also LIKE them on Facebook by searching Victorian AWSR Wingless Sprintcars.