Nominations are currently being called for the Salt Electrical Ladies of the Dirt Wingless Sprint Series which will take in events over April and May throughout Victoria.
The fifth running of the series will comprise of four rounds, beginning at Nyora Speedway on April 21 with round one followed by Laang Speedway on April 28 for round two, Darlington's Mid-Western Speedway on May 5 for round three and Nyora Speedway on May 19 for the fourth and final round.
The Ladies of the Dirt series will once again focus on raising money for the National Breast Cancer Foundation with drivers being urged to incorporate the colour pink and along with selling merchandise and walking through the crowd collecting cash donations, raising much needed funds to reach their goal of zero deaths from breast cancer by 2030.
Now in its fifth year, the Ladies of the Dirt series, has been regarded as a great success with many well-known racers, including Jessica Moulden, Kristin Brown, Mikayla Hein, Renee Pestka and Rhiannon Burleigh contesting the event in past seasons. The series has, over the years, also been the platform for several firsts including Carly Walsh scoring her maiden Wingless Sprint feature-race win back in 2016 at Nyora Speedway.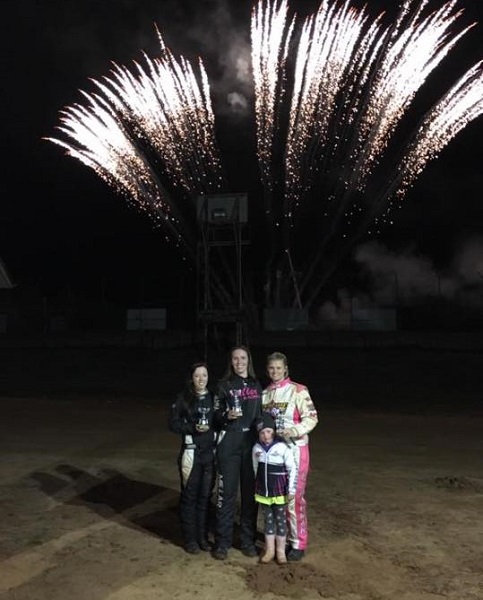 Heading into this season's event, Samantha Millar, who is the sister of current Victorian Wingless Sprint Champion Travis Millar, starts as the firm favourite after taking out the series win for the previous two seasons.
To date, a handful of drivers have already shown interest in the series, including Millar, Bree Hall, Rachel Cooper, Renee Eastham and Bianca Klemm.
In other exciting news, Salt Electrical will return as series sponsor. Salt Electrical is a family business dedicated to providing prompt and professional electrician services to Geelong and district since 1954. For further information, visit www.saltelectrical.com.au or call 0352 224 222.
The Victorian Wingless Sprints are currently seeking interested drivers, and you can register through the www.awsr.com.au website via the nomination section.
For more information about the Victorian Wingless Sprints, visit their website at www.awsr.com.au/vic. You can also LIKE them on Facebook by searching Victorian AWSR Wingless Sprintcars.