Despite being closely challenged by youngster Carly Walsh throughout both nights of competition, it was veteran Peter Logue who managed to come out on top to win the Wingless Sprints Winter Carnival over the June Long Weekend at Horsham's Blue Ribbon Raceway.
Having gotten his weekend off to the best possible start on Saturday night by winning the feature race ahead of Walsh, Logue was able to continue his winning ways on Sunday night, launching a late-race charge on first placed Walsh to claim his second victory in as many nights.
While it was Walsh who occupied pole position for the 20-lap feature race on the opening night of competition alongside Logue, it was Logue who made the best of the start, immediately taking control of the lead and remaining out front through to the fall of the chequered flag.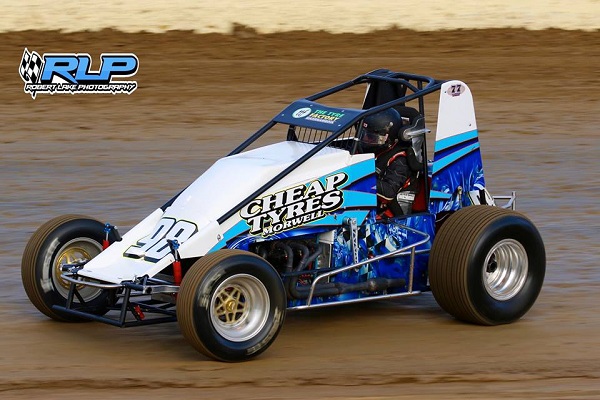 Photo: Robert Lake Photography
Forced to settle for second, Walsh came home in the runner-up spot, with Nic Green completing the podium in third. Travis Beasley and Glenn Watts rounded out the top five finishers, while remaining finishers included Jay Brown, Steven Hately, Tyson Bartlett, Clint McLaren and Jeremy Beddison.
A crowded infield saw eight cars suffer premature retirements due to various issues, the first of which was Mitchell Broome on lap nine, followed by Peter Merrett, Mick Rigby, Jason Bolitho, Michael Lovell, Raymond Klemm, Adam Smith and Geoff Cook.
Earlier in the night, Logue and Walsh showed strong form from the outset, each winning a heat race, with remaining heat-race wins going the way of Hately and Beasley.
After winning the B main and securing his transfer spot into the feature race, along with Rigby, Lovell, Merrett, Bolitho and Klemm, the night took a turn for Smith and the rest of the B main transferees, with all of them failing to finish the feature race.
Returning to the track for the final night of competition on Sunday, Walsh once again proved her worth throughout qualifying, scoring a win and a second-place finish in her heat races, to secure pole position for the feature race.
Holding strong in her position out front for the majority of the feature race, Walsh looked likely to go one better and claim the win, until Logue managed to work his way into second place after starting seventh, ultimately pipping the race leader with four laps to go and once again forcing her to settle for second.
Significantly improving on the previous night's DNF, Cook did well to hold on to his starting position to come home in third place, with Beddison and Watts finishing fourth and fifth respectively. Brown, Beasley, Rigby, Broome, Hately, Smith, Merrett and Glen Harris completed the remaining finishers.
Things didn't improve for Lovell, who once again retired to the infield, this time after just five laps, along with McLaren, Bartlett, Lovell, Robert Whiteside and Green.
Joining Walsh with one heat-race win apiece were Beddison, Cook and Green.
For more information about the Victorian Wingless Sprints, visit their website at www.awsr.com.au/vic. You can also LIKE them on Facebook or FOLLOW them on Twitter by searching Victorian AWSR Wingless Sprintcars.