Off the back of a recent victory at Nyora Speedway, Travis Millar managed to go back to back at the track on Saturday night, winning the Victorian Wingless Sprints club show against a tough field of competitors.
Displaying solid pace from the outset and continuing his strong season form, Travis could not be beaten, winning both of his heat races and securing pole position for the 20-lap feature race, before leading the race from start to finish and going on to claim what was a convincing win.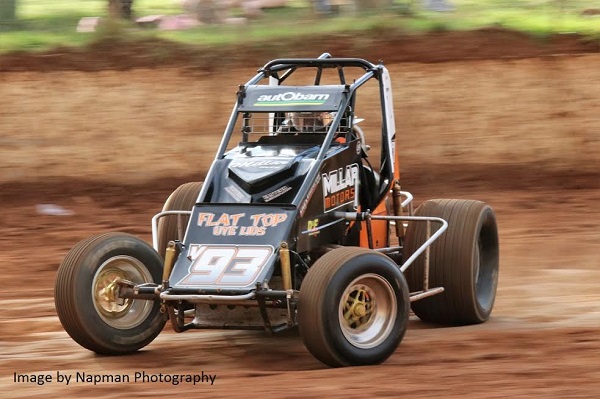 Photo: Napman Photography
Once again unable to pip Travis for the lead, after finishing second to him last month, Wayne Logue was forced to settle for the runner-up spot, with Michael Skene completing the podium in third.
Veteran Peter Logue narrowly missed out on a podium finish, coming home in fourth, while Warrick Taylor rounded out the top-five finishers.
The top-10 finishers were completed by Ricky Mills, Renae Eastham, Brad Foster, Jason Andreatta and Brad Warren, while remaining finishers included Todd Hobson, Peter Merrett, Scott Irons, Kelvin Toogood, Thomas McDonald and Brittany Kuypers.
Travis Evans was an early casualty, retiring from the feature race just two laps in, and was later joined by Ben Poliansky on lap 18.
With Millar driving to victory in both of his heat races, remaining heat-race wins were awarded to Hobson and Mills, while Kuypers was the best in the B main, securing her transfer spot into the feature race, along with Foster, Irons, Warren, McDonald and Poliansky.
In addition to the open club show, Saturday night also saw the running of the second Salt Electrical Ladies Race round, and it was Travis's sister Samantha Millar who claimed top honours, completing her clean sweep in the series, after winning the opening round late last month.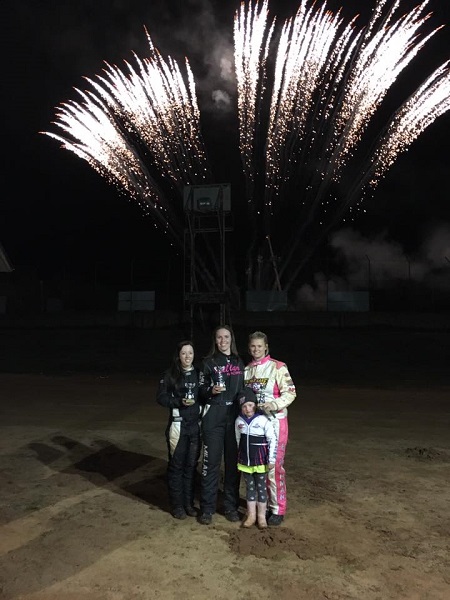 Photo: Bianca Reeves
While Eastham lined up in pole position for the 12-lap feature race, by virtue of a win and a third-place finish in her heat races, Samantha made the best of the start, immediately taking over the lead and managing to hold on to it through to the fall of the chequered flag.
Eastham was able to hold strong in second to claim the runner-up spot, while Bree Hall retained her starting position to finish third. Kuypers, Bianca Toogood and Stefani McDonald completed the remaining finishers.
Earlier heat-race wins were shared between Samantha Millar and Eastham.
The next appearance for the Wingless Sprints in Victoria will be the Winter Carnival, which will be held over the Saturday night and Sunday of June 10 and 11 at Horsham's Blue Ribbon Raceway.
For more information about the Victorian Wingless Sprints, visit their website at www.awsr.com.au/vic. You can also LIKE them on Facebook by searching Victorian AWSR Wingless Sprintcars.