Veteran Peter Logue managed to use his experience to claim the top honours in last weekend's Nyora Nationals for Wingless Sprints at Nyora Raceway in the Gippsland region of Victoria.
After running second on the opening night of competition, Logue, a two-time National Super Sedan Title holder, was able to snare pole position for the feature race on the second and final night, before going on to lead every lap of the disjointed 30-lap journey.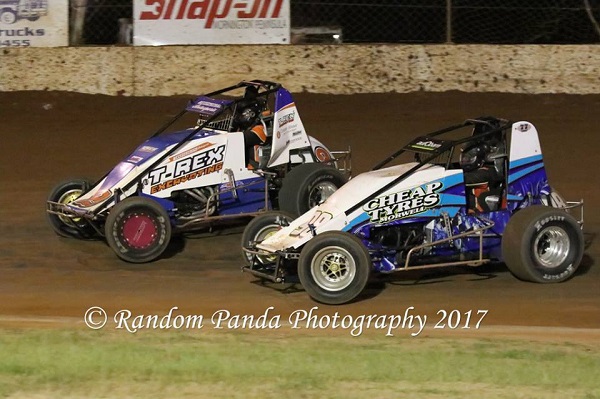 Photo: Random Panda Photography
Fellow front-row starter and Logue's son, Wayne, tried his best to reel in his dad, but was unable to do so and had to settle for second place at the fall of the chequered flag. It was a great fight back from Wayne, who had a disappointing preliminary feature-race finish on the opening night of competition.
Night one's preliminary feature-race winner Travis Millar put in a solid performance to complete the podium in third, while youngster Todd Hobson, who had started from the outside of the third row, just missed out on a podium spot; however it was certainly not from a lack of trying. Hobson tried everything to get around Millar, but was unable to execute a move.
In what was an impressive drive, Luke Schneider rounded out the top-five finishers ahead of Darryl Logue, Scott Irons, Warrick Taylor (who was running a total of three classes over the weekend, including Open Sedans and Standard Saloons), Ricky Mills and Jordan Abbott in 10th.
The remaining finishers were Jaidyn Job, Chris Temby, Bree Hall and Jason Andretta. The non-finishers included Neil Grey (crash), Chris Halesworth, NSW-visitor Coby Elliott and Robert Johnson.
On the opening night of the Nyora Nationals, it was Millar who took out the preliminary feature race. The conclusion of the 20-lap distance saw Millar finish ahead of Peter Logue in second and Michael Skene in third. The latter unfortunately had his weekend come to a spectacular crashing end on the second and final night in one of the earlier heat races. The crash severely damaged his car and he was consequently unable to take his spot in the feature race.
Todd Hobson was consistent throughout night and brought his car home in fourth, ahead of Irons in fifth, Mills, Taylor, Temby, Halesworth and Abbott.
Job, Wayne Logue, Glen Harris, Ebony Hobson, Darryl Logue, Elliott and Clint McLaren were the remaining finishers. The non-finishers were Ross Jarred, Aron Lawrence, Marc Evans, Grey, Schneider, Hall and Chris Skilton.
Special thanks must go to Wayne Hurford and Glen Harris for all of their efforts in organising the Nyora Nationals and putting up the prizes.
The next appearance for the Victorian Wingless Sprints will be this Saturday night's Invitational event at Geelong's Avalon Raceway. On the Sunday, the class will be part of the program at Drouin Speedway.
For more information about the Victorian Wingless Sprints, visit their website at www.awsr.com.au/vic. You can also LIKE them on Facebook by searching Victorian AWSR Wingless Sprintcars.