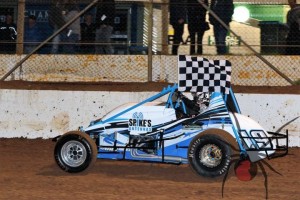 Spoljaric Makes Three Different Winners
By Phil Michell Motorsport Media
On a night that saw the race meeting at the Murray Machining and Sheds Murray Bridge Speedway cut short due to a misty rain shower that swept across the venue the 321 Concept Wingless Sprint Feature event was the only main event that was completed in its entirety. After qualifying on the front row of the 20-lap finale courtesy of two top five heat results Michael Spoljaric became the third different winner of the season as he led from the drop of the green to defeat Anthony Tapley and Brett Ireland.
After winning his opening heat rookie Jack McCarthy was the top qualifier going into the final with Spoljaric, Spencer Taylor, Mitchell Broome, heat two winner Matthew Kennedy, Tapley, Victorian Todd Hobson and Ireland rounding out the top eight.
Unfortunately, McCarthy's race would end on the opening lap as the freshly prepared track caught him out as he slipped wide in turn three and was collected by Brett Ireland. Spencer Taylor would also retire prior to the restart therefore Kennedy found himself on the front row after initially qualifying in position five.
At the resumption following the caution for McCarthy was all Spoljaric as he dominated the race, but he had to survive a feisty last lap challenge from Tapley who finished the race strongly. Brett Ireland would finish in position three in his first start of the season with Mitchell Broome, Matthew Kennedy, Todd Hobson, Jaime Lee Andrews and Renee Pestka the only other finishers.
After featuring at three consecutive events at Murray Bridge the class will now take a short break before returning to the venue for their next appearance on November 25.