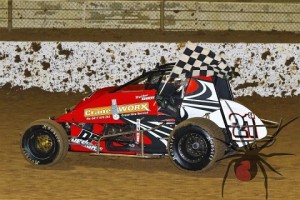 Wingless Set To Feature At MMS Again!
By Phil Michell Motorsport Media
The busy South Australian Wingless Sprint season continues this Saturday night (October 21) with two Wingless Sprints SA sanctioned events. The Murray Machining and Sheds Murray Bridge Speedway will host the inaugural 3-2-1 Concept race meeting while a small field of Mildura based drivers will support the 360ci Sprintcars at Broken Hill.
This Saturday night will mark the third consecutive meeting that the Wingless brigade have featured at Murray Bridge with the biggest field of the season set to take the green. Leading the line-up will be last meetings Feature event winner Matthew Kennedy, who capitalised on a late race mistake by race leader Aaron Doe to claim the win in his first start of the new season.
Joining Kennedy will be fellow 2017/18 feature winner Anthony Tapley and regular front runners Spencer Taylor, Joel Heinrich, who was third last start, Brett Ireland, Aaron Doe, Renee Pestka and Mount Gambier's Mitchell Broome.
Along with the previous feature event winners of the drivers mentioned, Aaron Doe will be one driver to watch having clean swept the heat races two weeks ago before leading all but the last three laps of the feature event after being involved in an incident as he attempted to lap the slower car of Jaime Lee Andrews.
The field also includes a few "Wild Cards" with impressive rookie Jack McCarthy, who was the runner-up at MMS two weeks ago in only this second start, Victorian Todd Hobson and Wayne Kirley, who is returning to the class after a couple of season's away from the sport.
Mildura's Anthony and Melissa McMillan, Jay Brown and Jason Bolitho, who has already competed at Murray Bridge this season, will form the small four car field at the Broken Hill Speedway this weekend.
Nominations for Saturday 21st October 2017 – Murray Bridge Speedway (13 Cars): S19 Michael Spoljaric, S21 Matthew Kennedy, S23 Jack McCarthy, S24 Aaron Doe, S28 Renee Pestka, S30 Jaime Lee Andrews, S35 Mitchell Broome, S46 Spencer Taylor, S47 Anthony Tapley, S71 Brett Ireland, S80 David Cuppleditch, S81 Wayne Kirley, V83 Todd Hobson
Broken Hill Speedway (4 Cars) – S37 Anthony McMillan, S51 Jay Brown, S52 Jason Bolitho, S73 Melissa McMillan