With the off season now in full swing, the Victorian Wingless Sprints have shifted their focus towards the upcoming 2017-18 season and are pleased to announce their full season calendar, which will see a total of 35 events contested over 39 nights of racing.
Commencing on October 7 at Geelong's Avalon Raceway with the first of what will be 14 club shows, the schedule will then head to Nyora Raceway, who will host the inaugural Nyora Wingless Nationals over two huge nights of racing, beginning on the Saturday night of November 4 and concluding with a twilight event on Sunday November 5. The following weekend, the Victorian Wingless Sprints will take part in Avalon Raceway's Jackpot Invitational event.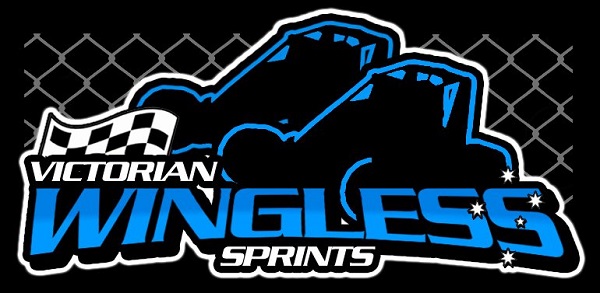 2017-18 will once again see a return of the hotly-contested Super Series, which will be fought out over six rounds at five different tracks, including Simpson Speedway, Avalon Raceway, Warrnambool's Premier Speedway (x 2), Bairnsdale Speedway and Mount Gambier's Borderline Speedway.
A busy Christmas-New Year period will see drivers contest four straight nights of racing from December 26-29, with two club shows, the Crossfire Shootout at Laang Speedway and the Western Shootout at Hamilton's Western Speedway, before battling it out over three nights from January 5-7 in the Summer Slam at Western Speedway, Borderline Speedway and Premier Speedway.
Round four of the Super Series at Bairnsdale Speedway on January 13 will be run in conjunction with the 50 Lapper, giving drivers an opportunity to get added laps under their belts prior to the Australian Title, which will be held at Sydney's Valvoline Raceway from February 1-3. A fortnight later, Simpson Speedway is set to host the prestigious Victorian Title, with drivers then travelling to Laang Speedway the following weekend for the Gold Cup.
In an interesting development, the 2017-18 season South Australian Title will be held in Victoria at Mildura's Timmis Speedway over two nights of racing on March 10-11, no doubt enticing several Victorian natives to participate in the quest for top state title honours, while March will also see the running of the Stonypoint 5000 at Darlington's Mid-Western Speedway and the Gary Bowden Memorial doubleheader at Rosedale and Bairnsdale Speedways.
The final two blue-ribbon events of the season will be contested throughout April, with the Peter Merrett Trophy Race at Simpson Speedway on April 7 and the 50 Lapper at Laang Speedway on the Saturday night of April 28, before a string of six club shows bring the season to an end.
The Victorian Wingless Sprints are looking extremely forward to getting the 2017-18 season underway in October and are confident that the season will see drivers continue to produce close and competitive racing, as they have done in previous seasons.
For more information about the Victorian Wingless Sprints, visit their website at www.awsr.com.au/vic. You can also LIKE them on Facebook by searching Victorian AWSR Wingless Sprintcars.
Victorian Wingless Sprints 2017-18 Calendar:
OCTOBER
October 7
Club Show – Avalon Raceway
October 22
Camp Quality – Nyora Raceway
NOVEMBER
November 4-5
Nyora Wingless Nationals – Nyora Raceway
November 11
Jackpot Invitational – Avalon Raceway
November 12
Club Show – Drouin Speedway
November 25
Club Show – Mid-Western Speedway (Darlington)
DECEMBER
December 2
Super Series Rd 1 – Simpson Speedway
December 16
Super Series Rd 2 – Avalon Raceway
December 26
Club Show – Bairnsdale Speedway
December 27
Club Show – Rosedale Speedway
December 28
Crossfire Shootout – Laang Speedway
December 29
Western Shootout, Club Show – Western Speedway (Hamilton)
JANUARY
January 5
Summer Slam Night 1 – Western Speedway (Hamilton)
January 6
Summer Slam Night 2 – Borderline Speedway (Mount Gambier, SA)
January 7
Super Series Rd 3, Summer Slam Night 3 – Premier Speedway (Warrnambool)
January 13
Super Series Rd 4, 50 Lapper – Bairnsdale Speedway
January 26
Club Show (no points weekend) – Rosedale Speedway
FEBRUARY
February 1-3
Australian Title – Valvoline Raceway (Sydney, NSW)
February 10
Super Series Rd 5 – Premier Speedway (Warrnambool)
February 11
Club Show – Drouin Speedway
February 17
Victorian Title – Simpson Speedway
February 24
Gold Cup – Laang Speedway
MARCH
March 10-11
South Australian Title – Timmis Speedway (Mildura)
March 17
Super Series Rd 6 – Borderline Speedway (Mount Gambier, SA)
March 24
Stonypoint 5000 – Mid-Western Speedway (Darlington)
March 30
Gary Bowden Memorial Night 1 – Rosedale Speedway
March 31
Gary Bowden Memorial Night 2 – Bairnsdale Speedway
APRIL
April 7
Peter Merrett Trophy Race – Simpson Speedway
April 21
Club Show – Nyora Raceway
April 28
50 Lapper – Laang Speedway
MAY
May 5
Club Show – Mid-Western Speedway (Darlington)
May 19
Club Show – Nyora Raceway
May 20
Club Show – Drouin Speedway
May 26
Club Show – Rushworth Speedway
JUNE
June 9-10
Club Show – Blue Ribbon Raceway (Horsham)