Off the back of hosting their annual presentation night last Saturday night, the Victorian Wingless Sprints take a look back at what was an impressive 2016-17 season, which saw a total of 120 different drivers complete laps at a number of events on the busy Victorian schedule.
Consistently producing strong car counts throughout the season, with various interstate drivers from South Australia, New South Wales and Tasmania participating in selected rounds, the Super Series produced hotly-contested competition, which saw several different drivers taste victory.
In the opening Super Series round, supported by Velocita Safety, at Mount Gambier's Borderline Speedway, it was Glenn Watts who was able to wrest the feature-race win away from his rivals, after a tough battle, with Daniel Storer and Weel rounding out the top three.
Heading to Simpson Speedway for the Heytesbury Stockfeeds backed second round, Weel was able to make the most of the home track advantage by claiming a hard-fought win, after a fantastic race against Bentvelzen, who was forced to settle for second ahead of Rhys Baxter, after the pair had continued to trade positions throughout the feature race.
Travelling to Warrnambool's Premier Speedway for the Tyre Factory – Warrnambool supported third round, Weel was riding a wave of confidence heading into the event, which saw him go on to take his second victory in as many nights, having won the Crossfire Shootout at Laang Speedway the night prior. Sam Wren came home in the runner-up spot with Baxter completing the podium in third.
Continuing his winning streak, Weel once again dominated the feature race to take out round four, supported by Salt Electrical, at Geelong's Avalon Raceway, while Chris Halesworth achieved his first podium result in the Super Series by coming away with the runner-up finish ahead of Mick Parry.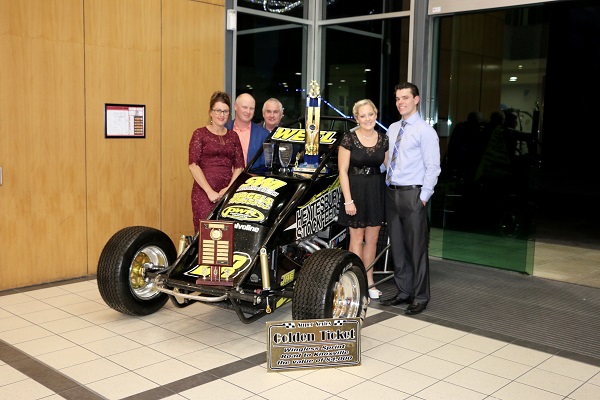 Photo: Robert Lake Photography
The Bill Storer Motors backed fifth Super Series round was certainly a race of attrition, with Travis Millar prevailing, after stealing the lead from Watts on lap 20. Being forced to settle for second, Watts racked up another minor podium result, with South Australian Robert Heard occupying the third spot.
The sixth and penultimate round, also supported by Salt Electrical, was declared a non-event, following a large crash just four laps into the feature race, which brought rookie Shaun Lyness's season to a premature end due to injuries he sustained.
Returning to Premier Speedway for the seventh and final Super Series round, supported by The Tyre Factory – Warrnambool, Weel once again found himself in the lead, after delivering a fantastic drive in his final heat race, going on to take a comfortable win and close his Super Series campaign in the best of fashions. Geoff Cook came home in the runner-up spot, while a herculean effort from Warrick Taylor saw him charge from 11th to third.
Winning four of the five completed Super Series rounds, Weel cemented his position on top of the series point standings, finishing a distant 346 points clear of his nearest rival Bentvelzen in second. With 1,516 points, Mount Gambier's Mitchell Broome claimed third place overall.
Final Super Series Point Standings:
Luke Weel – 2135 points
Dayn Bentvelzen – 1789
Mitchell Broome – 1516
Glenn Watts -1477
Rhys Baxter – 1425
Travis Millar – 1295
Marcus Green – 1275
Carly Walsh – 1270
Robert Heard (SA) – 1089
Geoff Cook – 1041
With 40 drivers taking part in the Autobarn Eastern Challenge, which was sponsored by seven Autobarn stores throughout Narre Warren, Wonthaggi, Warragul, Leongatha, Traralgon, Sale and Bairnsdale, it was Travis Millar who got his season off to the best possible start, claiming the win at Nyora Raceway, ahead of Ebony Hobson and Peter Logue.
Heading into round two at Bairnsdale Speedway, which doubled as the 50 Lapper, Dayn Bentvelzen managed to outlast his rivals to score the victory, after a great battle with Peter Logue. Father and son duo Peter and Wayne Logue completed the podium in second and third respectively.
The final two Autobarn Eastern Challenge rounds saw drivers not only attempting to rack up some valuable series points, but also perform strongly in the Gary Bowden Memorial Cup, which would be determined after the doubleheader. Proving to be an unstoppable force in the penultimate series round at Rosedale Speedway, Tony Moule went flag to flag to take a commanding win, while Nic Green and Travis Millar were forced to settle for second and third.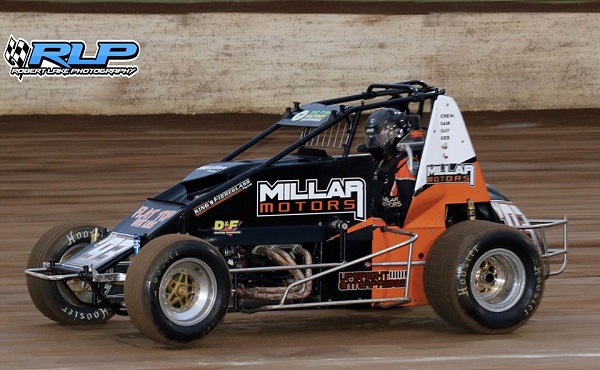 Photo: Robert Lake Photography
Bouncing back the following night, Travis Millar once again found himself in victory lane, ahead of Todd Hobson and Liam Atkinson, with his first-place result being enough to earn him top honours in both the Autobarn Eastern Challenge and the Gary Bowden Memorial Cup.
Thanks to their consistency over the four rounds, Peter Logue and Bentvelzen were awarded second and third place overall respectively.
Final Autobarn Eastern Challenge Point Standings:
Travis Millar – 1257 points
Peter Logue – 1134
Dayn Bentvelzen – 1089
Wayne Logue – 964
Ebony Hobson – 958
Tony Moule – 825
Adin Robertson – 801
Nic Green – 755
Wayne Hurford – 738
Ricky Mills – 681
With the opening round of the Salt Electrical Ladies of the Dirt Series at Darlington Speedway cancelled due to rain, the series officially commenced at Nyora Raceway, where Samantha Millar proved her pace, claiming the feature-race win over Ebony Hobson and Renae Eastham.
Returning to Nyora Raceway for the second and final round of the series, after the track thankfully decided to pick up the rescheduled opening round, Samantha Millar was once again unbeatable in the feature race, this time scoring the victory from Eastham and Breanna Hall, and solidifying her place at the top of the series leader board.
Eastham and Stefani McDonald completed the top three, with Ebony Hobson and Hall rounding out the top five point scorers.
Final Salt Electrical Ladies of the Dirt Series Point Standings:
Samantha Millar – 676 points
Renae Eastham – 597
Stefani McDonald – 512
Ebony Hobson – 309
Breanna Hall – 286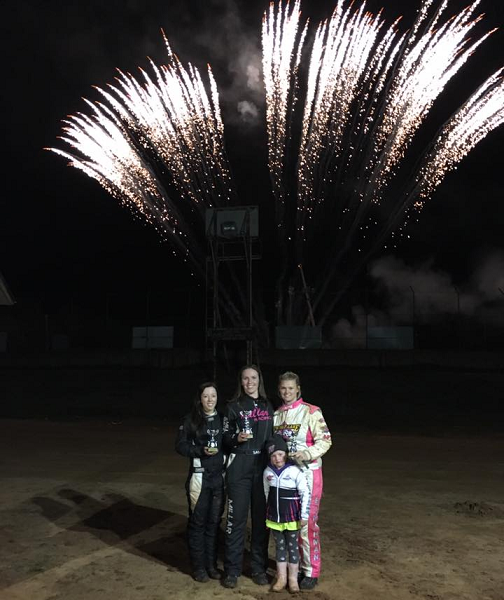 Photo: Bianca Reeves
Turning their attention to the upcoming 2017-18 season, the Victorian Wingless Sprints schedule will see a return of the Super Series, along with the Gary Bowden Memorial Cup and a number of other blue-ribbon events.
The Victorian Wingless Sprints would like to thank the following Eastern Challenge sponsors: Autobarn – Bairnsdale, Autobarn – Sale, Autobarn – Traralgon, Autobarn – Wonthaggi, Autobarn – Leongatha, Autobarn – Narre Warren, and Autobarn – Warragul.
They would also like to thank the following Super Series sponsors: Velocita Safety, Heytesbury Stockfeeds, The Tyre Factory – Warrnambool, Salt Electrical and Bill Storer Motors, along with their other 2016-17 season sponsors: Cheap Tyres – Morwell, Bass Concreting, U Pick Car Wreckers, Hennessy Transport, Motorsport Hauler Trailers, Max Dumesny Motorsport, and D&F Racing Products.
For more information about the Victorian Wingless Sprints, visit their website at www.awsr.com.au/vic. You can also LIKE them on Facebook by searching Victorian AWSR Wingless Sprintcars.