Last Saturday night, the Victorian Wingless Sprints hosted their annual presentation night at the Novotel Geelong Waterfront, where they took the opportunity to celebrate the achievements of their drivers and club members throughout the 2016-17 season.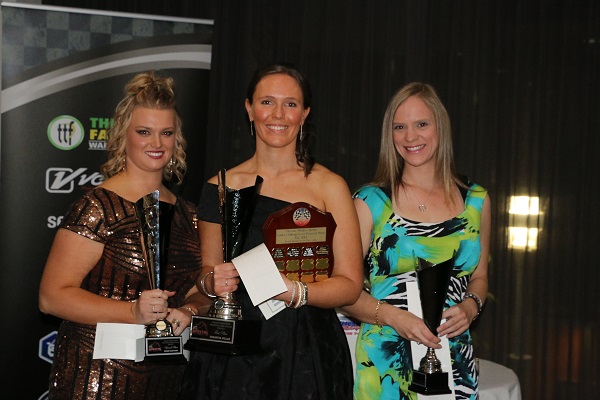 Photo: Robert Lake Photography
Beginning the evening's awards with the Salt Electrical Ladies of the Dirt Series, it was Samantha Millar who took top honours on 676 points, receiving the Hurst Family sponsored perpetual shield for the second time in her Wingless Sprint career. Finishing runner-up 79 points shy of the lead was Renae Eastham, while Stefani McDonald occupied the third spot with 512 points. Ebony Hobson and Breanna Hall placed fourth and fifth respectively.
Continuing the Millar family's strong season, Samantha's brother Travis Millar, whose car was on display during the event, along with Luke Weel's, received the perpetual shield in the Autobarn Eastern Challenge, along with the Gary Bowden Memorial Cup, which he won by 292 points ahead of Liam Atkinson over the Easter long weekend.
Second place in the Autobarn Eastern Challenge was awarded to veteran Peter Logue, with Dayn Bentvelzen placing third, ahead of Wayne Logue, Ebony Hobson, Tony Moule, Adin Robertson, Nic Green, Wayne Hurford and Ricky Mills.
Luke Weel took out the overall Super Series, picking up a brand-new Velocita Safety race suit for his efforts, while Bentvelzen collected his second trophy of the night, along with a set of NOS Racing Parts injectors, thanks to his runner-up result. Third place was filled by South Australian Mitchell Broome.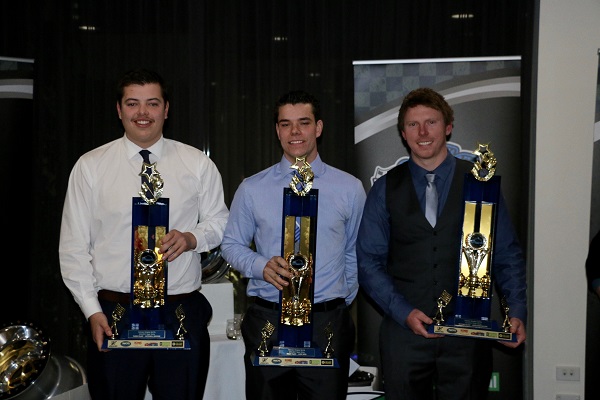 Photo: Robert Lake Photography
Having achieved his maiden feature-race win this season, along with a number of minor podium results, Michael Skene was named the Most Improved Driver, while rookie Luke Schneider received the Encouragement Award, after doing his fair share of travelling to race this season, while being met with a number of disappointing rainouts.
With a massive list of 25 drivers making their Wingless Sprint debut this season, Michael McDonald couldn't have been happier to be named Rookie of the Year, after achieving a number of impressive results, which included several front-row starts in feature races and a number of minor podium finishes, along with a top-10 qualifying result in the Victorian Title.
Proving that he was a model of consistency throughout the season, Travis Millar collected some more silverware when he was presented with the first place trophy and a set of Max Wheels for winning the Max Dumesny Motorsport Aggregate point score, with Bentvelzen and Peter Logue occupying second and third place. Missing out on third place by just 18 points was Weel in fourth, ahead of remaining top-10 finishers Glenn Watts, Carly Walsh, Rhys Baxter, Marcus Green, Geoff Cook and Wayne Logue.
As voted on the night by the drivers, Weel came away with the Wally McDowell Best and Fairest Driver award, while the Heytesbury Stockfeeds team received the Best Presented Car and Crew award.
The Golden Ticket draw went the way of Weel, who picked up a $4,000 travel voucher as a result, with the 50/50 draw going to Bianca Reeves.
Off the back of their annual presentation night, the Victorian Wingless Sprints also held their Annual General Meeting on Sunday, with the following members being elected: Adrian Densley (President), Peter Green (Vice President), Maria Olsson (Treasurer) and Andie Harris (Secretary). The General Committee will be made up of Glenn Harris (Licensing Secretary), Mark Walsh, Robert Lake, Mick Parry, Bianca Laycock and Paul Wren, with Greg Foster taking on the role as Technical Representative.
The Victorian Wingless Sprints would like to thank the following Eastern Challenge sponsors: Autobarn – Bairnsdale, Autobarn – Sale, Autobarn – Traralgon, Autobarn – Wonthaggi, Autobarn – Leongatha, Autobarn – Narre Warren, and Autobarn – Warragul.
They would also like to thank the following Super Series sponsors: Velocita Safety, Heytesbury Stockfeeds, The Tyre Factory – Warrnambool, Salt Electrical, and Bill Storer Motors, along with their other 2016-17 season sponsors: Cheap Tyres – Morwell, Bass Concreting, U Pick Car Wreckers, Hennessy Transport, Motorsport Hauler Trailers, Max Dumesny Motorsport, and D&F Racing Products.
For more information about the Victorian Wingless Sprints, visit their website at www.awsr.com.au/vic. You can also LIKE them on Facebook by searching Victorian AWSR Wingless Sprintcars.