There's no question that Travis Millar has been one of state's best Wingless Sprint drivers in recent years, but he had yet to taste any state title success; however that all changed at Simpson Speedway on Saturday night, when he claimed The Tyre Factory – Warrnambool supported Victorian Title.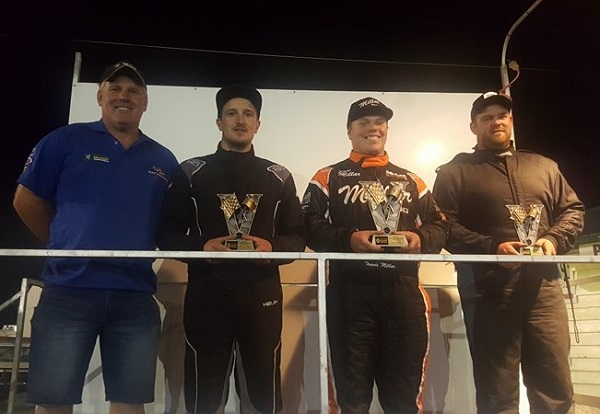 Despite coming out on top in the end, Millar was outshone by surprise packets in veteran David Cook and youngster Alex Ross earlier in the event. The Cook and Ross duo shared the front row of the Victorian Title-deciding feature race, with another surprise packet in Ross Jarred occupying the second row with Millar.
When the green flag dropped for the 30-lap decider, it was Ross who got the jump on the pole sitter and the pair stayed in first and second for the opening 10 laps, as Millar quickly moved into third. As Ross headed Cook, the latter managed to wrestle the lead away from Ross for a handful of laps, before a mistake exiting turn four saw him spin towards the infield and he consequently hand the lead back to Ross, dropping back to fourth.
With Ross out in front, Millar closed in on the leader, while another impressive racer in Alex Thomson, who had started from position six, worked his way up to third. On lap 16, Millar took the lead away from Ross, as the battle for third intensified between Thomson, Cook and current autObarn Super Series Champion Luke Weel.
The event looked like it was going to go 30 laps without a single stoppage, but that all changed on lap 27, when a collision between Cook and Weel while fighting over fourth resulted in a spectacular crash on the back straight. Both cars were towed to the infield with damage and the drivers weren't injured.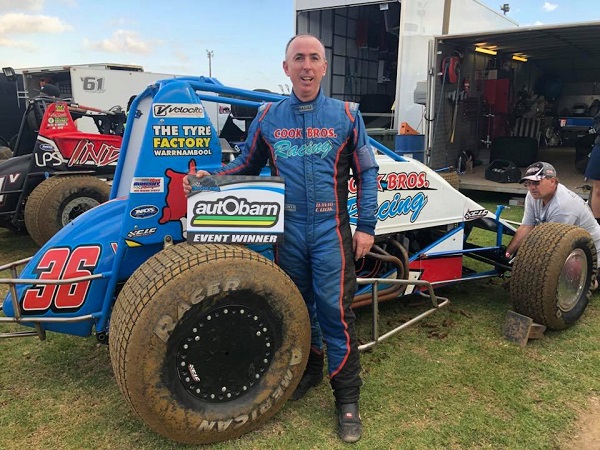 Photo: Robert Lake Photography
This lone stoppage then set up a three-lap battle to the chequered flag for the Victorian Title honours between Millar and Ross. With Millar running strongly, it was always going to be difficult for the inexperienced Ross, but he certainly didn't go down without a fight and threw everything at Millar. In the end, Millar held on for a narrow victory ahead of a gallant Ross in second and Thomson in third.
Daniel Storer, the current autObarn Super Series leader, finished just off the podium in fourth ahead of defending Victorian Champion Glenn Watts in fifth. The latter was in great form on the night, winning one of his earlier heat races, but it was in one of the other heat races when he collected an infield tyre, resulting in a DNF. This DNF saw him lose vital points and he was forced to qualify for the feature race via the B main. After winning B main 2, Watts started the feature race from position 16. With everything to gain and nothing to lose, Watts charged his way through the field and brought it home in fifth.
Jarred, Mitchell Broome (SA), Wayne Logue, birthday boy Shaun Lyness and Clint McLaren rounded out the top-10 finishers.
The remaining finishers were veteran Peter Logue, B main 1 winner Luke Storer, Ben Doukas and Todd Hobson.
Apart from Cook and Weel, the only other non-finishers were locals Matthew Balcombe and Mathew Symons.
B main 1, supported by NOS Race Parts, was claimed by Luke Storer ahead of fellow feature-race transferee Hobson, while B main 2, also sponsored by NOS Race Parts, saw the win go to Watts and joining him in the feature-field field was second-placed finisher Doukas.
Heat-race wins earlier in the night were shared between Cook (x 2), Thomson (x 2), Symons (x 2), McLaren, Peter Logue, Watts, Daniel Storer, Wayne Logue, Millar, Jarred, Balcombe and Ross.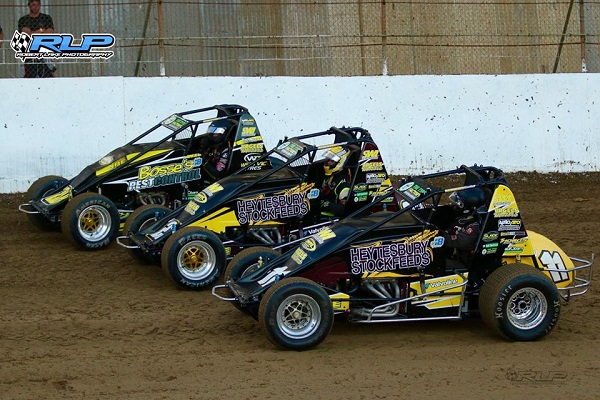 Photo: Robert Lake Photography
The heat-race action saw plenty of close racing but also some spectacular accidents. Simpson Speedway has a little bit of everything and the drivers, as they raced for track position with their rivals, didn't always get it right.
For the second season in a row, the Victorian Title was proudly supported by The Tyre Factory – Warrnambool. To find out more about The Tyre Factory – Warrnambool, visit their website at www.ttf.com.au or LIKE them on Facebook by searching The Tyre Factory Warrnambool. The Tyre Factory – Warrnambool is owned by Wingless Sprint racer Geoff Cook.
For further information about the AWSR, visit their website at www.awsr.com.au, LIKE them on Facebook or follow them on Instagram and Twitter by searching Australian Wingless Sprint Racing.