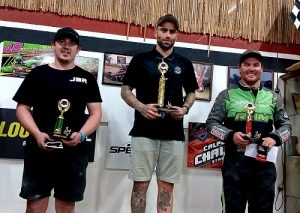 MMSS Wingless Season Finale
By Phil Michell Motorsport Media
This Saturday night (April 23) the Wingless Sprints will take to the Murray Machining and Sheds Murray Bridge Speedway for the final time this season with a field of 26 drivers set to vie it out for the final A main victory of the Murray Bridge season. Throughout the season the Wingless Sprints have been the standout racing category at the venue and this Saturday night should be no exception with a classy field assembled.
The Wingless Sprints will be the headline racing category of the night with the event format including six heats and a B-Main prior to deciding the final MMSS Club Show main event winner. With events running out on the 2021/22 South Australian schedule time is running out to secure an A-Main victory so you can count on the action being fast and intense.
The line-up for the meeting has attracted a majority of the drivers who have established themselves as front runners all season long including Jack McCarthy, Rylan Furler, Ryan Alexander, Anthony Tapley, Melissa Crouch, Robert Heard, Hayden Vickers, Caleb Evans and Brett Ireland. Following a strong run last weekend Brad Evans will be out to cause an upset or two so will fellow veterans Bronson Mauro, Rory Button and Darryl Sloan.
The Club Show this weekend comes hot on the heels of the Easter Wingless Cup at the Riverland Speedway at Renmark last Saturday night where Jack McCarthy emerged the winner ahead of local Rhys Heinrich and Mildura's Jordon Bolitho.
A Total of 15 drivers headed to Renmark for their second appearance of the season with the format featuring Time Trials, three rounds of heats and a 25-lap final. Qualifying saw Keke Falland pace the field with a lap of 14.675 while the heat winners were Heinrich (2), Bolitho (2) and Brad Evans (2).
Due to their two heat wins both Heinrich and Bolitho lined up on the front row with Jack McCarthy starting from position three due to his consistent heat results. Despite starting on the second row McCarthy quickly moved into the lead and from that point he was never headed as he led the entire 25 lap journey.
Rhys Heinrich would hold onto second with Bolitho, Falland and Evans completing the top five. Barossa Valley's Harley Alexander was next ahead of Victorian Chris Ansell, Sharni Pitcher, Darryl Sloan, Nicole Southby and the Mildura based duo of Melissa and Anthony McMillan.
In further South Australian news congratulations to Joel Chadwick, who was victorious in Round 2 of the Queensland Easter Trail at the Archerfield Speedway, Brisbane, last Saturday night.
Wingless Sprints of SA would also like to wish Rhys Heinrich, Tyson Martin, Nate Trewin, Sharni Pitcher and Brent Fox the best of luck as they contest the Northern Territorian State Championship at Arunga Park Speedway, Alice Springs this weekend.
Ends Release…