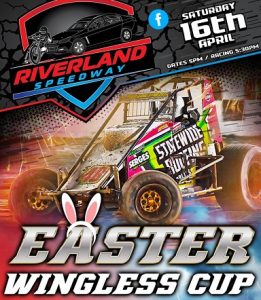 Renmark Set For A Wingless Easter Treat
By Phil Michell Motorsport Media
After a lengthy break following the 60 Lapper at Murray Bridge the South Australian Wingless Sprint competitors will return to racing this Saturday night with the Easter Cup at the Riverland Speedway at Renmark. It will be their second visit to the venue this year after racing there back in January, but the field has doubled for the Easter Cup with 15 competitors hoping to take home the chocolates on Saturday.
Last start Renmark winner and Renmark Speedway Club President Rhys Heinrich will enter the event as one of the favourites having won at Murray Bridge earlier this season and he also started on pole for the 60 Lapper. Jack McCarthy is another driver who has had an outstanding season and he would love to add a late season win at Renmark to list of achievements this season.
Local Loxton based competitor Keke Falland, and his Car Owner Roydn Bailey, will also be optimistic of a great showing at what is effectively their home track while Barossa Valley based brothers Harley and Jesse Alexander will also be drivers to keep an eye on. Harley finished in a career best runner-up position at the venue back in January.
"The Prez" Darryl Sloan, Brad "Kenny" Evans, young charger Caleb Evans, Nicole Southby and the Pitcher Sisters, Sharni and Kirra-Lee, will round out the local entries.
Several Victorian drivers will head across the border with Chris Ansell being joined by three Mildura based drivers including Jordon Bolitho, Anthony and Melissa McMillan.
Following the Easter Cup this Saturday the remaining Wingless Sprints SA events will include a Club Show at the Murray Machining and Sheds Murray Bridge Speedway on April 23 before the season finale at the Sunline Speedway, Waikerie on May 21, 2022.
Saturday 16th April 2022, EASTER CUP – Riverland Speedway, Renmark – Current Nominations (15 Cars) – S3 Keke Falland, S8 Darryl Sloan, S20 Harley Alexander, S23 Jack McCarthy, VX32 Chris Ansell, S33 Brad Evans, S37 Anthony McMillan, S48 Rhys Heinrich, S50 Jordon Bolitho, S53 Nicole Southby, S55 Sharni Pitcher, S57 Kirra-Lee Pitcher, S73 Melissa McMillan, S82 Caleb Evans, S84 Jesse Alexander.
Ends Release…
Release By Phil Michell Motorsport Media
For Wingless Sprints of SA.