With Darwin's Northline Speedway's biggest meeting just around the corner, a quartet of Wingless Sprint drivers will make the trip northwest to battle the locals and support their home state of NSW.
Craig Skene, Troy Carey, Jason Davis and Nathan Dicker will escape the winter chill this Sunday and transport their race cars more than 3,500km to Darwin for the NT Triple Challenge. The drivers will make an early start to their seasons over three big nights of racing, which will include the Des J Nash Outlaw Challenge, the KeenQuip Racegear Feature and the NT Open Wingless Championship.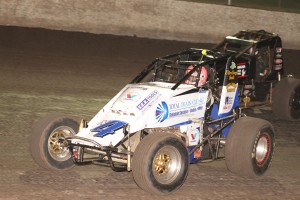 Having all achieved a number of impressive results throughout their racing careers, the NSW drivers will be expected to deliver strong performances over the two weekends at Northline Speedway.
Veteran racer Skene, a former Sprintcar and Compact Speedcar driver, who is also one of NSW's original Wingless Sprint drivers, is looking forward to making his return to racing after a four-year hiatus, while fellow Dubbo resident Carey is sure to show pace, having last season won the Brisbane 50-Lapper, placed third in the Queensland Title and ran 13th in the Australian Title.
Sydney's Davis recently scored third place in the 2015-16 season NSW Club Championship and will be joined by fellow Sydneysider Dicker, who is a competitive and uncompromising racer.
All four drivers are excited to take on some different competition in the local contingent and not only looking forward to enjoying the Northern Territory's hospitality in the lead up to the event, but also supporting racing throughout Australia's top end.
Racing for the Wingless Sprints will commence on Friday night of August 19 with the Des J Nash Outlaw Challenge, in honour of one of the Wingless Sprints Association's founding members, who was also a supporter of Wingless Sprint racing in the NT. It will continue the following weekend on Friday, August 26 with the KeenQuip Racegear Feature and will conclude on Saturday, August 27 with the Total Tools Winnellie NT Open Wingless Championship. All three nights will make up the series NT Triple Challenge, also supported by Total Tools Winnellie.
Skene, Carey, Davis and Dicker would like to give special thanks to NSW Wingless Sprints, who have helped to make this trip a possibility, as well as the NT Wingless Sprint Association. Also, special thanks to Red Devil Fishing Charters.
They would also like to thank the following event sponsors: Total Tools Winnellie, KeenQuip Racegear, KQ Autos, Steeline, A.M. Cranes, Howard Springs Tavern, Action Print, Beta Berrimah Butchers, La Beach Fish and Chips, Norsign NT, Repco Pinelands and Q Bar & Brasserie.