This Saturday night's NSW Wingless Sprints Title at Sydney's Valvoline Raceway is sure to produce a thrilling spectacle when over 60 drivers will strive to outpace their rivals to earn top honours in the event.
Ahead of the upcoming Australian Championship which will also be taking place at the premier Sydney venue early next month, the NSW Title will offer drivers the perfect opportunity to gain some valuable experience on the track, and with such an impressive list of nominations, they'll get a taste of the action they're sure to encounter come February.
With last season's NSW Title champion Adam Butler having made the move to 410 Sprintcars this season, a new champion is guaranteed on Saturday night. Last season's runner-up and local Luke Sayre will surely be one to watch as he attempts to go one better to claim the crown, as will fourth-place finisher Daniel Flood, who won his maiden state title last season, taking out the Queensland Title at Toowoomba's Hi-Tec Oils Speedway.
Having tasted victory in the rescheduled 2016 NSW Title at the beginning of last season, which was also hosted by Valvoline Raceway, Sydney's Jason Bates knows exactly what it takes to win at the track and he will be looking to score title # 2, while regular front-runners Mark Blyton, Jason Davis, and 2016 runner-up Jeff Thomas are set to be right up there.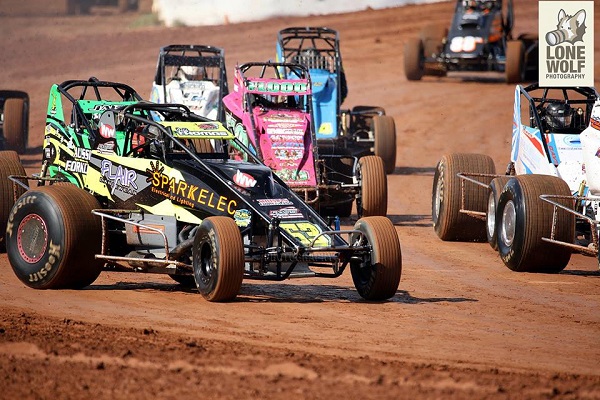 Photo: Lone Wolf Photography
Off the back of winning the opening NSW Club Championship round in Sydney back in October, Goulburn's Peter Granger is hoping to carry his winning form with him into Saturday night's event, with youngster Harley Smee also having tasted victory this season, picking up his first win of the season at Goulburn Speedway, along with last-start winner Ashleigh Jack, who claimed her maiden feature-race victory recently at Nowra Speedway.
Numerous family pairings will be amongst the NSW Title field, with Graham Flood (Daniel's dad) joining the line-up, along with Jamison Blyton (Mark's son), fast-paced Dicker brothers Sean and Jamie, O'Brien brothers Mitch and Leighton, current Valvoline Raceway Track Champion Dean and Steve Thomas, who will join their other brother Jeff, and uncle and nephew pair Lou and Zac Pacchiarotta.
Troy Carey, who is the current Northern Territory Champion, is hoping to perform well, along with Sean Mayo, Geoff Piekar, Jeff Neve, Andrew Seery, Troy Baker and youngster Tyson Williams.
David Eggins will head a contingent of Northern NSW-based drivers, which will also include former Queensland Champion Trent Martin, Kevin Willis, Michael Butcher, Warren King, Max Risbridger, Michael Reid, John Newman and Kyle Ionn, while the remaining NSW field will be made up of Brock Gardiner, Cody Boulding, Kyle Angel, Parker Eveleigh, Michael Sammut, Jack Gray, Jason Martin, Kyle Mock, Drew Hillman, Darryl Marshall, Jarrad Rust, veteran Brian Briton, Shane Chippindale, John McRae, Jacqui Salmon, Lawrence McDougall and John Webb.
A small but formidable interstate field will be led by defending Victorian Super Series Champion Luke Weel, with fellow Victorians Travis Millar, who will be piloting the Vic # 2 Fitzpatrick Autosports car, youngster Todd Hobson and Clint McLaren also making the trip up the East Coast in the hopes of stealing the NSW crown.
Flying the flag for South Australia, current Australian and South Australian Champion Joel Chadwick will be hoping for a winning result ahead of his Australian Championship defence at the track in a fortnight, while another Australian Champion in two-time winner Daniel Hartigan will no doubt do everything he can to challenge for the win in what is going to be his Valvoline Raceway debut. Hartigan will be joined by fellow Western Australian representative Mitchell White.
For more information on the AWSR, visit their website at www.awsr.com.au or LIKE them on Facebook or Follow them on Instagram and Twitter by searching Australian Wingless Sprint Racing.
NSW Title Nominations:
V2 Travis Millar
N4 Jason Davis
S5 Joel Chadwick
N5 Mark Blyton
NX5 Max Risbridger
NX6 Warren King
N7 Jeff Neve
NX9 Andrew Seery
N10 Geoff Piekar
NX11 John Newman
N11 Kevin Willis
N12 Brock Gardiner
N14 John McRae
N15 Jamison Blyton
N16 Ashleigh Jack
N17 Lawrence McDougall
N19 Cody Boulding
NX21 Kyle Ionn
N21 Sean Dicker
NX24 Kyle Angel
N24 John Webb
N27 Parker Eveleigh
V28 Luke Weel
N29 Michael Sammut
N30 Jack Gray
N31 Jason Martin
N35 Sean Mayo
NX36 Michael Butcher
N40 Lou Pacchiarotta
N41 Jason Bates
W42 Mitchell White
N42 Zac Pacchiarotta
N45 Troy Carey
NX48 Tyson Williams
N50 Graham Flood
N51 Dean Thomas
N52 Steven Thomas
N53 Jeffrey Thomas
N57 Harley Smee
N58 Luke Sayre
N60 Daniel Flood
N61 Peter Granger
NX71 David Eggins
NX72 Troy Baker
NX77 Michael Reid
W77 Daniel Hartigan
N78 Drew Hillman
V79 Clint McLaren
N80 Trent Martin
NX82 Jamie Dicker
V83 Todd Hobson
N83 Darryl Marshall
N84 Jarrad Rust
N85 Brian Briton
N89 Jacqui Salmon
N94 Shane Chippindale
N97 Kyle Mock
N98 Leighton O'Brien
N99 Mitchell O'Brien