The 2017-18 season has so far been a successful one for Wingless Sprints Queensland, with the club having run six of their 13 Ian Boettcher Race Parts Queensland Club Championship rounds prior to a host of other events which are still to come.
With Mother Nature winning out over round two of the Club Championship at Brisbane's Archerfield Speedway, with drivers only able to complete their heat races prior to the remainder of the meeting being cancelled due to rain, five of the six previous rounds were successfully completed, with numerous drivers featuring inside the top three.
Leading the charge this season, youngster Cody O'Connell is currently topping the Club Championship point score, following a round win and a third-place finish, with the youngster also having claimed an impressive victory in the recent Gold Cup at Maryborough Speedway over the Christmas-New Year period.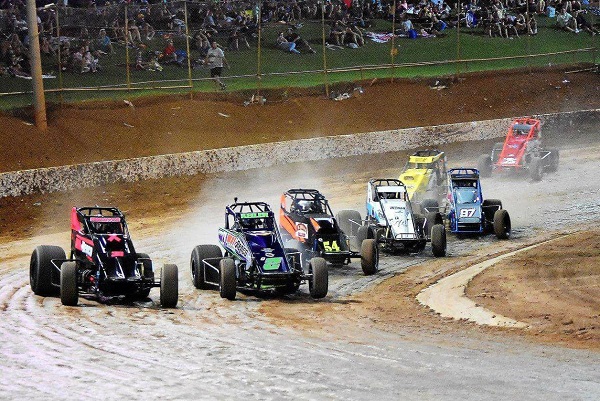 After winning the opening Club Championship round at Archerfield Speedway back in September, Brant Chandler, who spent last season on the sidelines, managed to carry his winning form through to the club's most recent hit out and the sixth round of the Club Championship, also at Archerfield Speedway, earning him some valuable points which now see him sitting just 22 points behind leader O'Connell.
While not having yet achieved a feature-race victory this season, the consistent Paul Robinson has certainly been knocking on the door, with a pair of runner-up finishes in rounds one and three earning him a total of 557 points, 37 points shy of Chandler, while Brian Dixon has also visited the podium this season.
Despite not having done much racing this season, Glenn Wright found himself on the podium at Toowoomba's Hi-Tec Oils Speedway in the rescheduled fifth Club Championship round, while a mixed season for Brody Thomsen saw his best result come one round prior with a third-place finish at Kingaroy Speedway.
A handful of minor podium results this season from NSW-based visiting driver Robert Mazzer have earned him eighth place in the Club Championship point standings. Also featuring in the top-10 points, Wingless Sprints Queensland President Brad Keiler came home fifth in the hotly-contested Gold Cup behind Mackay's David Lindsay, while Geoff Davies' recent podium result in the latest Club Championship round sees him sitting seventh.
Making an encouraging debut in the class this season, Josh Dreaver heads up the rookie ranks, with the teenager exceeding expectations in the latest Club Championship round, coming home in a pleasing second place.
The hard luck tales for rookies goes to budget racer Stevie Love, who hasn't let his bad luck curb his enthusiasm, while Tim Harris is looking forward to making a return to the track shortly, after his steering broke just two laps into his maiden race meeting.
Also joining the class this season is New Zealand ex-pat Paul Taylor from Kingaroy, who has been improving greatly with each race meeting, along with Jason Black and Sam West. The latter is yet to make his debut in his ex-Jason King car.
With a host of Club Championship rounds and blue-ribbon events still to come, it's going to be an action-packed second half of the season for Wingless Sprints Queensland, commencing with the Australian Championship at Sydney's Valvoline Raceway from February 1-3, where Wright and Thomsen will be the two drivers flying the flag for their state.
Following the Australian Championship, this season's Easter Trail will be held over three rounds, commencing at Hi-Tec Oils Speedway on Good Friday (March 30), with round two being held at Archerfield Speedway the following night. The Easter Trail will conclude with round three on Easter Sunday (April 1) at Maryborough Speedway.
May 19 will see the running of the 50 Lapper at Archerfield Speedway, which will double as the 12th Club Championship round, with the club's final meeting of the season taking place back at Archerfield Speedway on June 9.
For their next appearance, drivers will return to Archerfield Speedway for the seventh Ian Boettcher Race Parts Club Championship round on the Saturday night of January 20.
Wingless Sprints Queensland is currently seeking sponsorship for the upcoming Queensland Title. The club is also looking for an official to join them and assist with the running of their race meetings. To register your sponsorship or the official position interest, please contact Brad Keiler on 0422 393 336.
Based in Ipswich, Queensland, Ian Boettcher Race Parts is one of the country's leading suppliers of speedway chassis, spare parts, tools, apparel and much more. Built by racers for racers, their professional team is dedicated to delivering clients with exceptional service every time. To find out more about Ian Boettcher Race Parts, visit their website at www.ianboettcherraceparts.com.au, LIKE them on Facebook by searching Ian Boettcher Race Parts or FOLLOW them on Twitter by searching @IanBoettcherRP.
For more information on Wingless Sprints Queensland, contact Brad Keiler on 0422 393 336 or visit their website at www.awsr.com.au/qld. You can also LIKE them on Facebook by searching Wingless Sprints Qld.
Latest Ian Boettcher Race Parts Queensland Club Championship Points:
Cody O'Connell – 616 points
Brant Chandler – 594
Paul Robinson – 557
Brian Dixon – 447
Joshua Dreaver – 434
Brad Keiler – 380
Geoff Davies – 294
Robert Mazzer – 260
Glenn Wright – 212
Brody Thomsen – 190