Continuing what has been a competitive 2017-18 season so far, Wingless Sprint rookie Alex Ross once again proved his worth as a formidable contender, winning last Saturday night's annual Gold Cup at Laang Speedway.
A 20 plus car field took to the Laang Speedway track to battle it out for top Gold Cup honours, but it was Ross who managed to conquer them all to claim the victory, off the back of a runner-up finish in the recent Victorian Title and clinching his maiden Wingless Sprint feature-race win.
Wasting no time in the 30-lap Gold Cup-deciding feature race, second-row starter Ross, driving the Vic # 14 Mick Uebergang-owned car, was quick to capitalise on the misfortune of pole-sitter Mitchell Smith, whose race was cut short on lap five, with Ross taking over the lead and going unchallenged for the remainder of the duration to come away with the win.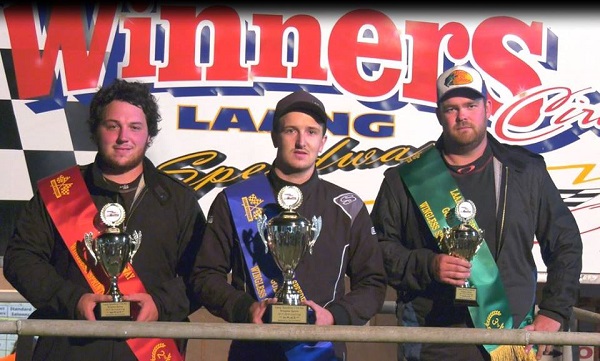 After starting from position eight, a great drive from Ben Doukas saw him come home in the runner-up spot, ahead of current Victoria # 3 Alex Thomson, who couldn't quite hold on to his second place starting position, slipping back one place to complete the podium.
Next across the finish line was Clint McLaren, followed by Shaun Lyness, who delivered an impressive performance to round out the top-five finishers, after transferring into the feature race via the B main.
The remaining feature-race finishers were Matt Bartlett, Ashley Cook, Luke Schneider, Mathew Balcombe, Wayne Logue, Dan Kelly, Gavin Fitzpatrick, veteran Viv Rockliff and Mick Rigby.
Unable to complete a lap in the feature race, Mathew Symons was the first of the retirees, later being joined on the infield by Smith, whose night took a disappointing turn in the feature race after starting from pole position, Geoff Cook and Marc Evans.
During the earlier heat races, Smith was the only driver to come away with duel victories, with remaining wins being shared between Schneider, Thomson, Symons, Balcombe, Lyness, Logue and Rigby.
The best of the B main was Lyness, who certainly made the most of his transfer into the feature race, while other transferees included Rockliff, Cook and Rigby.
For their next appearance, the Victorian Wingless Sprints will return to Laang Speedway this Saturday night to contest a club show, before travelling to Mount Gambier's Borderline Speedway on March 17 for the latest AutObarn Super Series round.
For more information about the Victorian Wingless Sprints, visit their website at www.awsr.com.au/vic. You can also LIKE them on Facebook by searching Victorian AWSR Wingless Sprintcars or FOLLOW them on Twitter by searching @VicWinglessSpri.