The Wingless Sprints Tasmania celebrated a hugely successful 2016-17 season last Saturday night, with a number of drivers, sponsors and committee members being recognised for their achievements at their annual presentation night at the Riverside Golf Club.
Thanks to a number of valued sponsors, an impressive range of silverware was on hand to present to a deserved list of award winners.
A model of consistency throughout the season, Jeremy Smith was pleased with his 2016-17 season performance, having done enough to take top honours in the overall Tasmanian Point Score (Turnbull Sawmill Pty Ltd), with Brad Whitchurch and Brad Walkley rounding out second and third place respectively (2nd Hardings HVAC Refrigeration, 3rd Turnbull Sawmill Pty Ltd).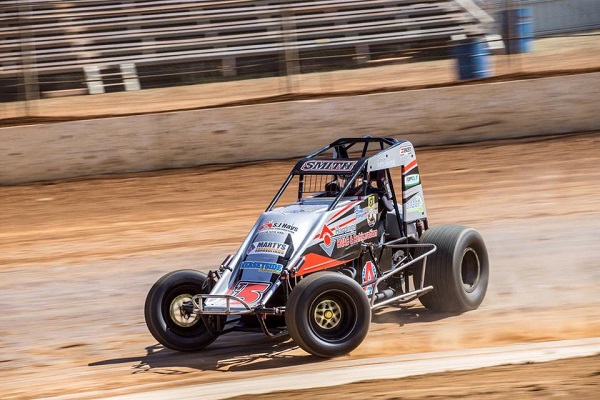 Photo: Angryman Photography
The perpetual Tasmanian Title trophy was presented to Luke Redpath, who managed to clinch a hard-fought victory in this season's running of the event, after a thrilling battle with South Australian Joel Chadwick, off the back of an impressive runner-up finish in the 2017 Powranna Plant Hire Australian Championship at Carrick Speedway.
In a special occurrence, Tony Smith kindly donated one of his old trophies to be presented to the Highest Points winner and it was Smith who had the honour of receiving it, having topped the leader board, collecting his second award of the night, before going on to receive his third, with first place in the BCF Series. Rookie Ryan Harding came away with a runner-up finish in the BCF Series, with Hadyn McBain finishing third, while Jamie Rolls and Brad Walkley were awarded equal fourth.
One of the most significant awards, the Driver's Driver (Herb's Fabrication), which was decided on the night, was presented to the well-respected Luke Redpath, with Joe Turnbull being named the Most Improved Driver (Principle Hair Design).
Harding had even more reason to celebrate, after being named this season's Rookie of the Year (MGP Motors Gearbox Pumps), while the Best Presented award (Marty's Excavation) went the way of the Hardings HVAC Racing team.
Not surprisingly, it was Whitchurch who took out the Hard-Charger award (Dougies Diggers), with the two-time Tasmanian Champion having raced to numerous feature-race wins this season.
Jamie Rolls received the Chief Steward's award (Wingless Sprints Tasmania), while rookie Luke Wilson was presented with the Biggest Crash award (Direct Access & Equipment), following his massive wreck during the Australian Championship weekend, and Hadyn McBain was named the Unluckiest Driver (Top Cut Maintenance), after a difficult run throughout the season.
The Best Club Person award (Wingless Sprints Tasmania), which is chosen by the committee, couldn't be narrowed down to just one candidate, and so it was presented to both Wingless Sprints Tasmania Treasurer Eliza McBain and President Chris Breen.
"It's been a great 2016-17 season for Wingless Sprints Tasmania, which was highlighted by the hugely successful Australian Championship," Breen enthused.
"We've consistently had good numbers, which has led to some thrilling racing, so we're looking forward to continuing to build on that next season.
"We have to say a huge thanks to all of the drivers, sponsors and volunteers who have helped to make this season as fantastic as it has been. Without them, none of this would've been possible."
Other award winners were: Ernie Blackberry (Chief Steward), Leanne Stevens (Flag and Steward), Powranna Plant Hire (sponsorship of the Australian Championship), JF Machinery (sponsorship of the Tasmanian Title), and BCF (sponsorship of the BCF Series).
To find out more about the Tasmanian Wingless Sprints, visit their website at www.awsr.com.au/tas or LIKE them on Facebook by searching Wingless Sprints Tasmania.