It was Glenn Watts who was the dominant force in last Saturday night's The Tyre Factory – Warrnambool supported Victorian Wingless Sprint Title at Hamilton's Western Speedway by going flag-to-flag in the feature race to clinch the crown.
Lining up alongside pole-sitter and surprise packet Michael Skene on the outside of the front row, Watts took control of the Victorian Title-deciding feature race from the drop of the green flag, maintaining his composure throughout the 30-lap distance and going on to claim a comfortable win and be named 2016-17 season Victorian Champion.
One of the hot favourites heading into the Victorian Title and the host state's form driver Luke Weel was running second for the majority of the feature race, after starting sixth; however, a late-race challenge for the lead on the final lap saw him spin to the infield, gifting the runner-up spot to former Australia # 3 Robert Heard (SA), with Rhys Baxter completing the podium in a pleasing third place in what was his final outing in the Wingless Sprint class.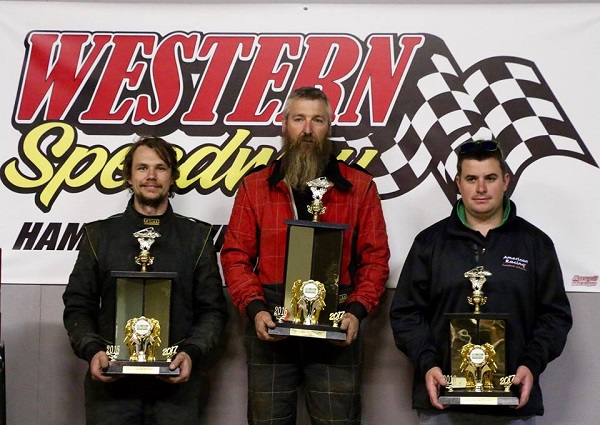 Photo: Robert Lake Photography
Managing to recover from his spin, a disappointed Weel finished just off the podium in fourth, while Skene completed the top-five finishers in fifth. Next across the finish line was Travis Millar, who was back in his repaired Vic # 93 car following last month's Australian Championship crash in Tasmania, followed by Liam Atkinson, who put in a great drive to finish seventh, with Mitchell Broome (SA), Jason Bolitho (SA) and Jeremy Beddison (SA) rounding out the top-10 finishers.
Remaining finishers were Carly Walsh, Tony Moule, Alex Thomson, Dale Gesell (SA), Marcus Green, Brad Beasley (SA) and Michael McDonald. The only non-finisher in the 18-car field was Michael Spoljaric (SA), who was forced to retire to the infield on lap five.
It was a disappointing night for current Australian and South Australian Champion Joel Chadwick (SA), whose Victorian Title campaign came to a premature end during his second heat race, when contact with another competitor caused damage to his car, resulting in Chadwick losing control and enduring a heavy collision with the wall. Albeit saddened by the result, Chadwick thankfully emerged unharmed.
In a similar scenario, another likely contender in Dayn Bentvelzen was sidelined for the remainder of the night, after a large crash in his opening heat race, which caused significant damage to his car, as was Peter Logue, after a collision in his second heat race.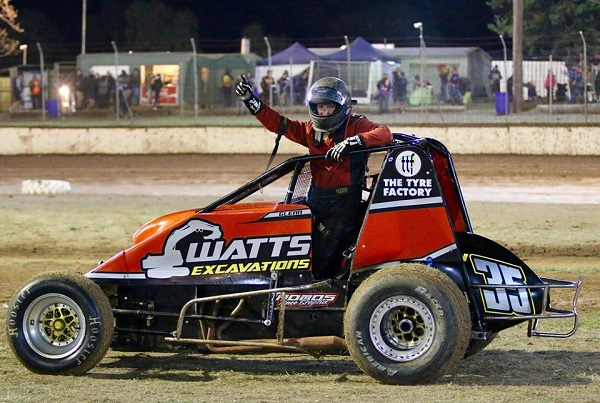 Photo: Robert Lake Photography
While Chadwick and Logue had both been in solid form from the outset, winning their opening heat races, Renae Eastham also displayed good pace, delivering a great race to claim the win in heat-race seven, with remaining heat-race wins were shared between Moule (x 2), Bronson Mauro (SA), Baxter, Weel, Bolitho, Millar, Skene and Green.
B main 1 saw Thomson take top honours to secure his transfer spot into the feature race, along with runner-up Beasley, while Gesell was the best in B main 2, claiming the win ahead of fellow feature-race transferee Green.
This season's Victorian Title was proudly supported by The Tyre Factory – Warrnambool. To find out more about The Tyre Factory – Warrnambool, visit their website at www.ttf.com.au or LIKE them on Facebook by searching The Tyre Factory Warrnambool.
The next appearance for the Wingless Sprints in Victoria will be this Saturday night's Peter Merrett Trophy event at Simpson Speedway.
For more information about the Victorian Wingless Sprints, visit their website at www.awsr.com.au/vic. You can also LIKE them on Facebook by searching Victorian AWSR Wingless Sprintcars.