An epic battle is set to ensue at Hamilton's Western Speedway, as a stout field of drivers prepare to go up against one another in the hope of winning this Saturday night's Victorian Wingless Sprint Title.
With 46 drivers set to participate in the event, and with last season's winner James Wren having moved from Wingless Sprints into 410 Sprintcars this season, the mantle of Victorian Champion could fall to anyone. The sights will no doubt be set on Luke Weel, who is sure to be one of the hot favourites, having wrapped up the Victorian Super Series last Saturday night, by virtue of winning four of the seven series rounds.
The Warrnambool, Victoria-based racer, who finished third in the NSW Title at Sydney's Valvoline Raceway and qualified pole for the Australian Championship at Carrick Speedway in Tasmania before suffering a heartbreaking DNF, will be hoping to continue his solid form in order to claim his maiden state title, after finishing third in last season's running of the event.
Taking the fight to Weel will be newly-crowned Australian Champion and current and two-time South Australian Champion Joel Chadwick (SA). Earlier this month, the Adelaide driver finished runner-up in the Tasmanian Title following his successful Australian Championship campaign, and will be looking to continue his winning ways to claim his third title for the season.
Last season's Victorian Title runner-up Tony Moule will hope to utilise his 30 years of speedway racing experience in order to go one better on Saturday night, while Dayn Bentvelzen is also expected to fare well, having had a breakout season, finishing second in the final Super Series point standings, as well as scoring a feature-race win earlier in the season.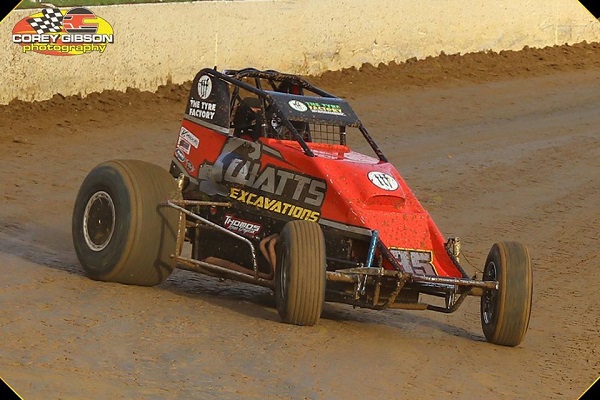 Photo: Corey Gibson Photography
Former Australia # 3 Robert Heard (SA) is without a doubt a genuine contender, having also finished third in this season's South Australian Title, as is current Australia # 5 Glenn Watts, who has picked up two feature-race wins so far this season, most recently at the Hamilton venue, and Travis Millar, who has also been in strong form, racking up multiple feature-race wins.
Despite not having raced much this season, Warrick Taylor has proven himself to be a tough competitor, as have Storer brothers, last season's Super Series Champion Daniel and his younger brother Luke. The latter of which has really stepped it up this season and has established himself as a genuine front-running contender. Off the back of a runner-up finish in last Saturday night's final Super Series round, Geoff Cook will be one to watch out for, along with fast-paced racers Jason Langdon, veteran Peter Logue, Rhys Baxter, Bhoe Paterson and Michael Skene.
One of three females in the talented line-up, rookie Carly Walsh has continued to improve with each race meeting this season and will be hoping to achieve a strong result, as well as Bianca Klemm and Renae Eastham, while a number of other South Australian competitors are amongst the nominations, including Michael Spoljaric, Travis Beasley, Michael Ross, Dale Gesell, Jason Bolitho, Mitchell Broome, Bronson Mauro, Jay Brown and Brad Beasley.
Jamie Rolls will be the sole representative for Tasmania and will be hoping for a solid performance up against the large field.
The Victorian Title is sure to be a hotly contested event, with the nominations featuring a strong list of other drivers from the host state of Victoria, including Michael Uebergang, Steven Hateley, Chris Halesworth, Travis Bergmeier, Ray Klemm, Glen Harris, Marcus Green, Jeremy Beddison, Mick Rigby, Liam Atkinson, Tyson Bartlett, Michael McDonald, Warren Sell, Marc Evans, Alex Thomson, Ben Doukas and Travis Evans.
The Victorian Title format will see drivers contest three rounds of heat races and the 30-lap Victorian Title-deciding feature race.
For more information about the Victorian Wingless Sprints, visit their website at www.awsr.com.au/vic. You can also LIKE them on Facebook by searching Victorian AWSR Wingless Sprintcars.
Victorian Title Nominations:
S4 Travis Beasley
V4 Carly Walsh
S5 Joel Chadwick
S6 Michael Ross
S13 Dale Gesell
V14 Michael Uebergang
S19 Michael Spoljaric
V21 Liam Atkinson
V28 Luke Weel
V30 Tony Moule
V31 Mick Rigby
V32 Dayn Bentvelzen
V33 Luke Storer
V35 Glenn Watts
S35 Mitchell Broome
V40 Warrick Taylor
S41 Bronson Mauro
V43 Daniel Storer
V45 Bhoe Paterson
V48 Michael Skene
S51 Jay Brown
S52 Jason Bolitho
V54 Jeremy Beddison
S57 Robert Heard
V60 Steven Hateley
V61 Marcus Green
V66 Marc Evans
V67 Chris Halesworth
S69 Brad Beasley
V72 Tyson Bartlett
V76 Ben Doukas
V77 Alex Thomson
V78 Jason Langdon
V81 Rhys Baxter
T83 Jamie Rolls
V88 Renae Eastham
V91 Bianca Klemm
V92 Ray Klemm
V93 Travis Millar
V95 Geoff Cook
V97 Travis Bergmeier
V98 Peter Logue
V101 Warren Sell
V144 Glen Harris
V146 Michael McDonald
V177 Travis Evans