Thanks to a dominant performance in last Saturday night's seventh and final Victorian Wingless Sprint Super Series round, supported by The Tyre Factory – Warrnambool, at Warrnambool's Premier Speedway, Luke Weel managed to wrap up the series point standings, a distant 348 points ahead of his nearest rival.
Collecting his fourth round win of the seven-round Super Series, Weel couldn't be stopped from the outset, winning both of his heat races and lining up in pole position for the 20-lap Super Series finale-deciding feature race.
Immediately seizing the lead from the drop of the green flag, Weel was untroubled by the turbulence further back in the field for the majority of the feature race, managing to survive a number of restarts to claim a convincing win, with Geoff Cook finishing in the runner-up spot. In what was one of his rare appearances this season, Warrick Taylor put in an impressive performance, charging from his 11th-place starting position and went on to complete the podium in third.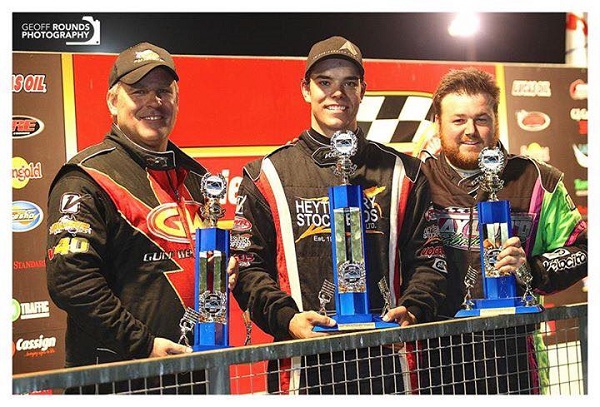 Photo: Geoff Rounds Photography
Defending Super Series Champion Daniel Storer finished just off the podium in fourth, ahead of veteran Peter Logue, who rounded out the top-five finishes. Teenage rookie Carly Walsh experienced one of her best results of the season, coming home in sixth place, while NSW-based racer Nikki Briton also achieved a standout performance to finish seventh, after qualifying for the feature race via B main 2 and starting towards the rear of the field.
Completing the finishers were Luke Storer, who was unable to capitalise on his front-row starting position, Jason Langdon, Bhoe Paterson, Robert Heard (SA), Marcus Green, Mitchell Broome (SA), current NSW Champion Jason Bates (NSW), Peter Merrett, Dayn Bentvelzen, Rhys Baxter and Glenn Watts. The latter had a difficult night, charging his way up to fourth from 16th at the halfway mark, only to endure contact with another competitor, which sent him rear of field.
Bentvelzen, who was chasing Weel for the Super Series point standings lead, was unlucky to finish near the back of the pack, having made his way up to seventh from 10th by lap seven before being tangled up in an incident which saw him relegated to the rear of field. Regaining some spots, Bentvelzen was sitting in 13th when he made contact with another car in the closing stages of the feature race, spinning out and once again losing ground, forcing him to settle for second place in the final Super Series point standings, ahead of Daniel Storer, Broome and Watts.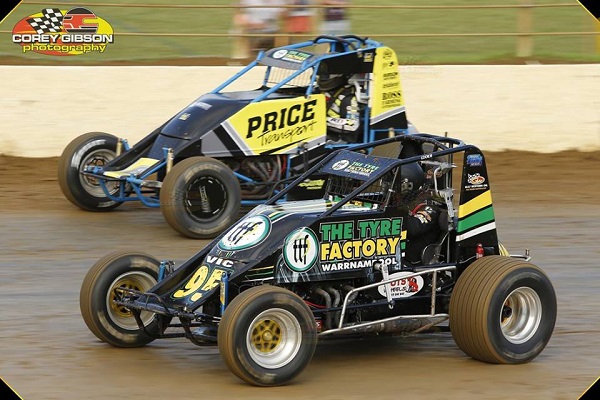 Photo: Corey Gibson Photography
Travis Millar was running inside the top five before retiring to the infield due to sustaining a flat front tyre on lap seven, after being caught up in an incident ahead of him, with Ben Doukas also recording a DNF.
Earlier in the night, Weel was the only driver to double up, winning both of his heat races, while the remaining wins were shared between Luke Storer, Heard, Green, Millar, Baxter and Cook.
B main 1 saw Langdon come out on top, ahead of fellow feature-race transferees Broome, Green and Doukas, while Briton was the best in B main 2, claiming the victory and securing her feature-race transfer spot, along with Watts, Merrett and Paterson.
The night was proudly supported by The Tyre Factory – Warrnambool. To find out more about The Tyre Factory – Warrnambool, visit their website at www.ttf.com.au or LIKE them on Facebook by searching The Tyre Factory Warrnambool.
With the Super Series now complete, the next appearance for the Victorian Wingless Sprints will be this Saturday night's Victorian Title at Hamilton's Western Speedway, where a new champion is guaranteed, with defending champion James Wren having stepped into Sprintcars earlier this season.
The Victorian Wingless Sprints would like to thank the following 2016-17 season Super Series sponsors: The Tyre Factory – Warrnambool, Velocita Safety Australia, Salt Electrical, Heytesbury Stockfeeds Pty Ltd, Bill Storer Motors, JDS Motorsport, Mungrel Custom Engineering, NOS Racing Parts, and Spot-On Injectors.
For more information about the Victorian Wingless Sprints, visit their website at www.awsr.com.au/vic. You can also LIKE them on Facebook by searching Victorian AWSR Wingless Sprintcars.
Contingency Award Winners:
Wingless Sprint Ticket to Knoxville: Luke Weel
NOS Racing Parts Second Place: Geoff Cook
JDS Motorsport Hard Charger: Bhoe Paterson (20th to 10th +10 positions)
Mungrel Custom Engineering Highest Placed Rookie: Tyson Bartlett (6th B main 1)
Spot-On Injectors Service Voucher: David Cook
Final 2016-17 Season Super Series Point Standings:
Luke Wheel – 2123 points
Dayn Bentvelzen – 1775
Daniel Storer – 1519
Mitchell Broome – 1492
Glenn Watts – 1463
Rhys Baxter – 1401
Travis Millar – 1291
Marcus Green – 1261
Carly Walsh – 1247
Robert Heard (SA) – 1075
Geoff Cook – 1039
Peter Logue – 923
Jason Langdon – 918
Luke Storer – 900
Chris Halesworth – 805
Steven Hateley – 788
Bhoe Patterson – 773
Ben Doukas – 692
Wayne Logue – 691
Warrick Taylor – 625
Mick Parry – 590
Peter Merrett – 586
Shaun Lyness – 558
Mathew Symons – 554
Alex Thomson – 554
Mick Rigby – 490
Jeremy Beddison – 484
Matt Balcombe – 479
Travis Bergmeier – 472
Warren Sell – 469