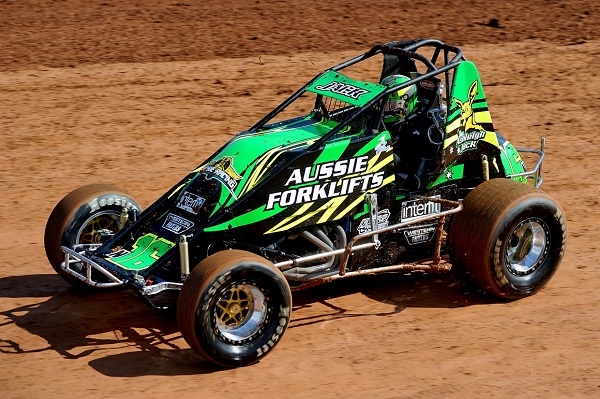 Ashleigh Jack drove a great race to record her first ever main event win at Nowra Speedway on the NSW south coast on Saturday night.
After sharing the front row with her team mate Luke Sayre for the 25 lap main event, she grabbed the lead in turn one and made sure no one was getting by without a fight.
In the end however, it was a fairy tale finish with Ashleigh leading every lap. Unfortunately the race fell victim to the track's strict curfew and the race was declared after fifteen laps but that didn't take anything away from the fantastic win by Jack.
Second to the line was her team mate Luke Sayre and third was Troy Carey. Harley Smee and top points man after the heats, Mark Blyton, rounded out the top five.
Jason Davis was sixth followed by Nathan Dicker, Zac Pachiarotta, Brian Briton and Kyle Mock drove a great race to finish tenth.
Eleventh home was Peter Granger followed by Sean Dicker, Max Risbridger, Jeff Neve and Blake Darcy was the final finisher. Non finishers were Sean Mayo, Jamison Blyton, Troy Baker, Jamie Dicker and Tyson Williams.
The only real major incident of the night occurred on lap nine of the feature when Troy Baker flipped down the main straight. He was ok but sadly the same couldn't be said for his car.
Eight heats were contested with wins going to Baker, Jamie Dicker, Ashleigh Jack, Jamison Blyton, Sean Mayo, Mark Blyton, Jason Davis and Troy Carey.
B-Main one was a win for Sean Mayo and Sean Dicker won B-Main two.
Mark Blyton was top points and drew an inversion 6 for the feature.
The NSW Wingless Sprints would like to thank all competitors who travelled to Nowra for the event.
The next event on the NSW Wingless Sprints Calendar is the NSW Title on January 20 at Valvoline Raceway. A big car count is expected for the event which is the perfect lead up to the Australian Title on February 2 and 3, also at Valvoline Raceway.