Despite not recording a single win over the three nights of the Easter Trail for Wingless Sprints, Brant Chandler was still able to be rewarded for his consistency with the overall point standings win.
It's been an impressive season for Chandler, who currently leads the Ian Boettcher Race Parts Club Championship point standings, and he managed to continue that by coming out on top in the overall Easter Trail point standings ahead of youngster Joshua Dreaver in second and another youngster in Cody Boulding (NSW) in third.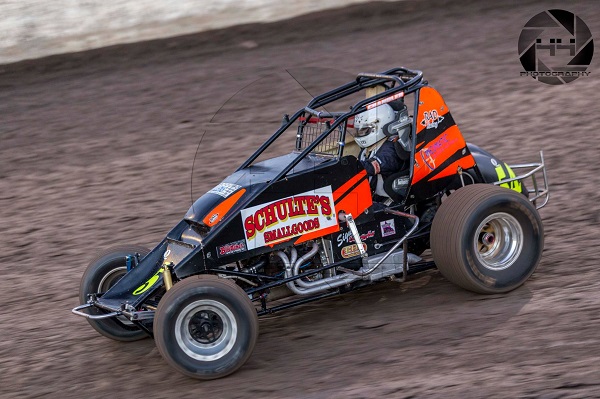 Photo: 44 Photography
Held over three nights, the Easter Trail was fought out at Toowoomba's Hi-Tec Oils Speedway on the Friday night, Brisbane's Archerfield Speedway on the Saturday night and then culminated at Maryborough Speedway on Sunday night.
As a model of consistency over the three nights of racing, Chandler recorded a sixth-place finish at Toowoomba, followed by two second-place finishes in a row at Archerfield and Maryborough rounds, which was enough to clinch the overall series.
Dreaver, who has impressed many in his rookie season recorded an eighth, fourth and seventh for a second place overall, while Boulding recorded two third-place finishes at both Toowoomba and Maryborough rounds; however, a crash, which resulted in a DNF, at the Archerfield round harmed his overall points chase.
Kicking off at Hi-Tec Oils Speedway and it was Northern NSW-based David Eggins to strike first. After qualifying for the 20-lap feature race on pole position, Eggins raced away and led every lap to record a very impressive win, finishing over two seconds clear of his closest rival.
Coming home in second was another Northern NSW resident in Michael Butcher. Just like Eggins, Butcher was able to hold onto second for the entire race distance and record one of his best results of the season.
Rounding out the podium finishers, and making it an all NSW podium, was Boulding. The youngster from Yass, NSW has had a breakout season in 2017-18 and this was by far the best performance of his short career.
Completing the top-10 finishers was Brendan Webber, Mason Cattell, Chandler, Paul Robinson, Dreaver, Jacob Jolley and Geoff Davey.
At Archerfield Speedway the following night, Eggins repeated his great form from the opening night to take the win by the barest of margins. Eggins started the feature-race from the second row and worked his way into the lead before having a battle in the closing laps with Chandler.
Second placed Chandler tried everything to get past Eggins but just came up short; however, with Eggins not completing the final round, due to racing at Lismore Speedway on the same night, Chandler finished night two in great overall contention in the points.
Home in third was Jolley. After scoring a front row start for the feature race, Jolley fell back to third but still piled on the pressure to the front running duo. In the end, he just didn't have the speed and settled for the final podium placing.
Completing the top-10 was Dreaver, Ryan Harris, Butcher, Davey, Mick Reid, Robinson and Josh Slack.
The third and final night, which coincided with Maryborough Speedway's 60th anniversary race meeting, saw a small, yet competitive field hit the track for the conclusion of the Easter Trail and it was Cody O'Connell, having already claimed a Maryborough victory earlier in the season, who was too strong for his challengers and led all 15-laps to take the win. Earlier in the weekend, O'Connell had suffered a flat tyre and then battling on to finish 12th at the Toowoomba round and recorded a DNF, due to a crash that then caused an electrical issue, at the Archerfield round.
Second to the line was Chandler who did enough to take overall honours. After spending 12 months on the sidelines, Chandler has returned to great form, scoring six feature-race victories along with a handful of minor podium finishes.
Rounding out the top three was once again Boulding. To come to another state and be as competitive was an outstanding run and was a huge confidence boost heading into the future.
Completing the remainder of the field was Michael Lampard, Scott Thomson, Hayden Jones, Dreaver and Corey O'Toole.
The next event for Wingless Sprints Qld will be the 11th Ian Boettcher Race Parts Qld Club Championship round at Archerfield Speedway on the Saturday night of April 28.
For more information on Wingless Sprints Queensland, contact Brad Keiler on 0422 393 336 or visit their website at www.awsr.com.au/qld. You can also LIKE them on Facebook by searching Wingless Sprints Qld.