The Queensland Wingless Sprint Easter Trail, set to go green this Easter Long Weekend, has attracted a strong field of cars, ready to battle it out over three big nights of competition.
Beginning the three-night series on Good Friday at Toowoomba's Hi-Tec Oils Speedway, teams will have a busy night before backing up the following night at Brisbane's Archerfield Speedway before the exciting conclusion on Easter Sunday at Maryborough Speedway.
Leading the local charge will be current Ian Boettcher Race Parts Queensland Club championship Brant Chandler. Having returned to competition after a 12-month layoff, the Plainland, Queensland-based racer has been in great form, notching up five feature-race wins through the season which included a recent three wins-in-a-row.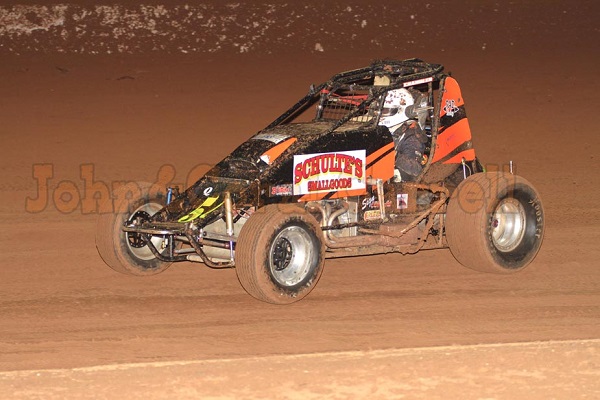 Photo: The Carrells
Joining Chandler as one of the threats is Cody O'Connell. It has been a good season for O'Connell with two wins to his name along with a numerous minor podium finishes. O'Connell, who is also in contention for the Ian Boettcher Race Parts Qld Club Championship, will be searching for another win to add to his season resume.
Another driver to keep an eye on over the weekend will be youngster Joshua Dreaver. The Brisbane-based rookie has shown impressive form of late, including a recent second place finish at Archerfield Speedway. Sitting in fifth in the Qld Club Championship, he will be one to watch this weekend.
The lone interstater who is nominated to compete in all three nights is youngster Cody Boulding. Based in Yass in the Southern Tablelands of NSW, Boulding will make the trek north after a handful consistent runs this season in his home state. At a recent event at Goulburn Speedway, Boulding qualified in the top four for the feature race, which is a fair of his progression.
It promises to be a hotly-contested event each night and with three very different tracks, the ability of the drivers to adapt will be intriguing to watch. Also, with prize money each night, along with a series prize pool, there will be action aplenty.
For the opening two rounds at Toowoomba and Archerfield Speedway tracks, each driver will contest two 10-lap heat races, before contesting the feature race. The Maryborough Speedway round will see each driver contest three 10-lap heat races and the feature race, which will give drivers one final chance to score points for the overall series.
The overall series points will be combined over the three nights of racing, which include the heats and feature-race to give a total for the Easter Trail Champion.
For more information on Wingless Sprints Queensland, contact Brad Keiler on 0422 393 336 or visit their website at www.awsr.com.au/qld. You can also LIKE them on Facebook by searching Wingless Sprints Qld.