The Queensland Wingless Sprint Title victory at Kingaroy Speedway on Sunday night capped what was a very successful weekend for David Eggins, after the Lismore, NSW-based racer claimed his second feature-race win in as many nights and the first title victory of his career.
After taking the win in the 100 lap Australian Grand Prix the previous night at his home track: Lismore Speedway, Eggins arrived at Kingaroy Speedway full of confidence and went about things in the best possible way. Qualifying on pole position and leading the entire 30-lap distance in the Queensland Title deciding feature-race.
There was no shortage of action in the ninth running of the Queensland Title with stoppages bunching up the field numerous times, including the final two laps which race leader Eggins had to endure two green, white, chequered finish restarts, after the yellow lights coming on within sight of the chequered flag. However, Eggins was just too strong on restarts and went about recording an emphatic victory. Eggins also ensured the Queensland Title trophy remains in NSW for another 12 months after Sydneysider Daniel Flood claimed last season's title.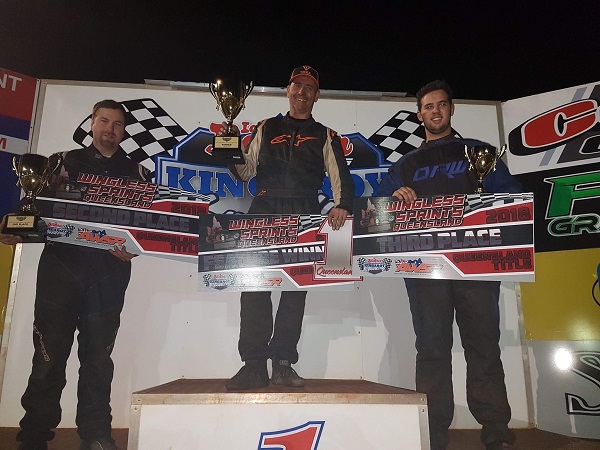 Making it a 1-2 finish for the state of NSW was fellow Lismore resident Kevin Willis. Starting the race from position four, Willis, who was driving a car owned by former Queensland Champion Trent Martin, quickly advanced into the second spot on the opening lap. Willis remained in second for the entire race distance. Despite being within striking distance of Eggins but had to settle for the runner-up position, which mirrored the result from the previous night at Lismore Speedway, where Willis filled the runner-up position there.
Filling the final podium position was a gallant Cody O'Connell. Charging forward from the fourth row, O'Connell hit the top three just prior to half race distance and has continued what has been an impressive season for the teenager. An earlier heat race mishap saw O'Connell spin out after contact from another car, but he managed to continue and went on to finish the race. However, it did hurt his overall points going into the feature race.
Coming home in fourth was David Lindsay. It was an up and down feature race for Mackay, NQ-based racer who managed to snare fourth on the last lap from defending NSW Champion Daniel Flood. This forced Flood to have to settle for a fifth-place finish.
Rounding out the top-10 finishers was Brendan Webber, Paul Robinson, Hayden Jones, Michael Butcher and Steve Thomsen.
Ryan Harris crossed the line in 11th followed by remaining finishers Michael Reid, Corey O'Toole, Rob Hamilton, Brant Chandler and Paul Taylor.
Non-finishers were Brody Thomsen, Scott Thomsen, Mick Lampard, Matthew Wright, Joshua Dreaver, Brad Keiler and Wade Mesken.
There were numerous hard-luck stories throughout the feature race, including six-time feature-race winner this season Chandler, who was looking strong until a spin in the first half of the race put paid to his title aspirations. Also, two-time Qld Champion Scott Thomsen flipped out of contention in a crash that involved his brother Brody, following the latter hitting the wall and leaving Scott with nowhere to go. Both cars were out of the restart.
Earlier in the night, there were nine heat races contested, and the wins went to Willis (x 2), Eggins (x 2), Chandler (x 2), Scott Thomsen (x 2) and O'Connell.
For further AWSR information, visit their website www.awsr.com.au or LIKE them on Facebook or follow them on Instagram and Twitter by searching Australian Wingless Sprint Racing.