With state pride on the line, a stout field of Queenslanders will be attempting to wrestle back top honours from their NSW rivals in this Saturday night's Ian Boettcher Race Parts 50 Lapper for Wingless Sprints at Brisbane's Archerfield Speedway.
With the visiting NSW drivers having clinched the 50 Lapper victory over the previous two seasons, Troy Carey winning in 2016 and Harley Smee taking out last season's running of the event, the host-state drivers are hungry to steal back the crown this Saturday night; however, it certainly won't be easy, with defending champion Smee returning to the fold.
Leading the charge against Smee and sure to give him a run for his money will be two of Queensland's current in form drivers in Cody O'Connell and Brant Chandler. Off the back of a pleasing third-place finish in the recent Queensland Title at Kingaroy Speedway, O'Connell will be riding a wave of confidence heading into the 50 Lapper, having also collected a pair of feature-race wins this season, while Chandler, despite experiencing a challenging Queensland Title campaign, has visited victory lane a whopping six times this season, along with winning the overall Easter Trail point score.
Steering the Tim McKinnell-owned Tas # 24 machine, two-time Queensland Champion Scott Thomsen will be joined on track by his younger brother Brody and their dad Steve, with the family unit hoping to rally around one another to come away with a strong result.
Despite not having completed an abundance of racing this season, due to racing commitments in other classes, last season's Qld Club Champion Glenn Wright is no stranger to the track and is sure to be a front-running contender.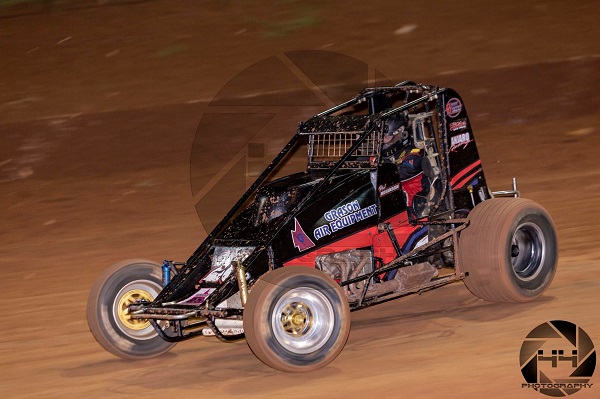 Photo: 44 Photography
Youngster Joshua Dreaver recently showed great consistency to finish second in the overall Easter Trail point score and he will be joined by fellow Queenslanders Brad Keiler, Geoff Davey, Paul Robinson, Corey O'Toole and Ryan Harris, all of whom will be hoping to pip their interstate rivals for a strong result.
Joining Smee to try and keep the 50 Lapper trophy in NSW, Lismore's Michael Butcher has experienced a season of highs, having recently taken out the Driver to America Series to earn the coveted ticket to Knoxville, after also having won a pair of feature races and racking up 10 minor podium finishes, while fellow Lismore-based driver Kevin Willis, who recently finished second in the Queensland Title, has also shown strong pace throughout the latter stages of this season.
Completing the NSW contingent and looking to make their presence known against their Queensland counterparts will be Matthew Wright, Michael Reid, Natasha Herne and John Slack.
The Ian Boettcher Race Parts 50 Lapper format will see drivers contest two rounds of heat races each to determine their starting positions for the 50-lap feature race. The highest point scorer from the heat races can choose to start from the rear of the feature race to try and attempt double their prize money to $800, if they are good enough to go on and win.
This event also doubles as the penultimate Ian Boettcher Race Parts Qld Club Championship round.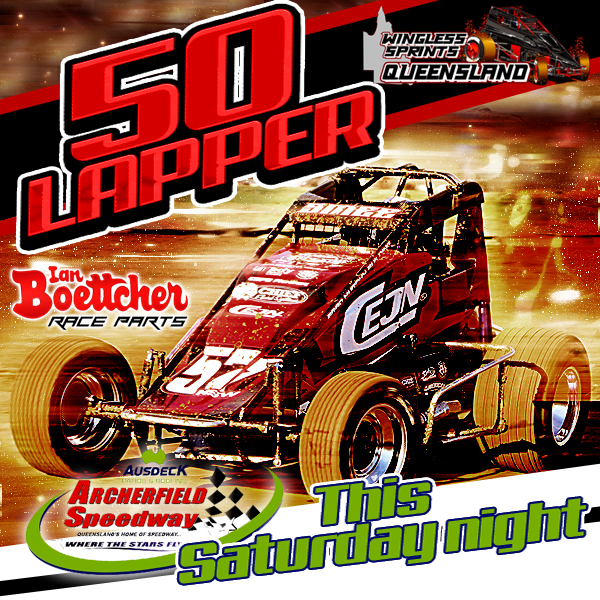 Based in Ipswich, Queensland, Ian Boettcher Race Parts is one of the country's leading suppliers of speedway chassis, spare parts, tools, apparel and much more. Built by racers for racers, their professional team is dedicated to delivering clients with exceptional service every time. To find out more about Ian Boettcher Race Parts, visit their website at www.ianboettcherraceparts.com.au, LIKE them on Facebook by searching Ian Boettcher Race Parts or FOLLOW them on Twitter by searching @IanBoettcherRP.
For more information on Wingless Sprints Queensland, contact Brad Keiler on 0422 393 336 or visit their website at www.awsr.com.au/qld. You can also LIKE them on Facebook by searching Wingless Sprints Qld.
Ian Boettcher Race Parts 50 Lapper Nominations:
Q2 Bradley Keiler
Q9 Ryan Harris
N11 Kevin Willis
Q18 Brody Thomsen
T24 Scott Thomsen
Q28 Paul Robinson
Q30 Joshua Dreaver
NX36 Michael Butcher
N44 Natasha Herne
Q48 Steve Thomsen
Q49 Cody O'Connell
Q52 Corey O'Toole
Q54 Brant Chandler
N57 Harley Smee
N66 John Slack
Q74 Geoff Davey
NX77 Michael Reid
NX83 Matthew Wright
Q99 Glenn Wright