Ahead of this weekend's 2019 Australian Wingless Sprint Championship at Warrnambool's Premier Speedway in Victoria, Totally Speedway's Daniel Powell breaks down his top-10 contenders from the talented field of 110 drivers.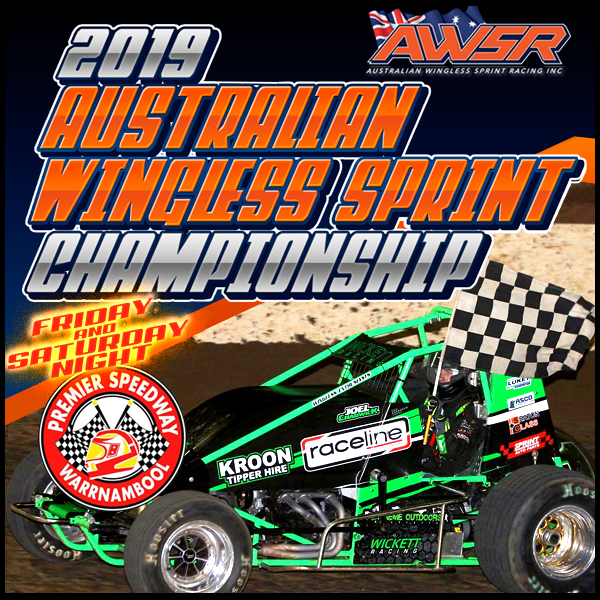 Andy Hibbert (Vic)
The Australian Championship podium is a place that's not unfamiliar to Hibbert, who had the honour of standing on the second-place step following the 2015 running of the event.
While that may have been four seasons ago, the leading Victorian driver again proved that he has what it takes to challenge for Australian Championship glory at Sydney's Valvoline Raceway (NSW) last season, when he surprised several his rivals by topping night one's point standings. Could it finally be time for Hibbert to clinch top honours?
Scott Thomsen (Qld)
He may be filling the driver's seat of a Tasmanian registered car, but that doesn't mean that Thomsen won't be feeling the pressure of the state pride that will be on the line, particularly since he's one of only two nominations from the Sunshine State.
A two-time Queensland Champion, Thomsen certainly can't be discounted when it comes to likely Australian Championship victors. The question will be whether or not he will be able to continue the feature-race winning form that has recently bolstered his season.
David Eggins (NSW)
Not many drivers can beat Eggins around the northern NSW tracks he appears to have mastered. Having racked up an impressive four feature-race wins so far this season, the Lismore-based racer has been a standout throughout his home state's competition, but he's gearing up to be put to the test in a big way when he faces 68 Victorians and 41 other interstaters during the Australian Championship.
Luke Redpath (Tas)
There's a lot to be said for redemption and the hunger in which a driver attempts to achieve it, and this is definitely true in the case of Redpath, whose 2017 Australian Championship campaign at Carrick Speedway in Tasmania ended with him narrowly missing out on the victory, placing a close second.
The current and two-time Tasmanian Champion is in the best possible form to rectify his previous runner-up result, having already banked six feature-race wins so far this season.
Jason Bates (NSW)
Another of NSW's leading drivers, consistency is the name of the game for Bates, whose strong qualifying run during last season's running of the event at Valvoline Raceway saw him greet the chequered flag in fourth place.
With the experience and track time of yet another season under his belt heading into this weekend's Australian Championship, the former NSW Champion is likely to be amongst the front-running contenders come Saturday night's feature race.
Travis Millar (Vic)
There was no denying Millar an inclusion in the top-10 Australian Championship contenders, given his status as one of the host state's leading drivers, with a slew of blue-ribbon events to his name, including this season's Jackpot Invitational and the Nyora Nationals.
While he unable to retain his Victorian Title crown recently at Geelong's Avalon Raceway, last season's state champion showed plenty of gumption during the event, which will no doubt make him an exciting addition to this weekend's Australian Championship.
Luke Storer (Vic)
It's been a banner 2018-19 season so far for the younger of the two Storer brothers, who would love nothing more than to add the Australian Championship silverware to his trophy cabinet; an achievement that is more than a possibility given his recent form.
Wrapping up the Summer Slam Series, Storer's most recent highlight was being crowned this season's Victorian Champion. Having settled nicely into his mantle as Victoria # 1, he'll be hoping to ride his wave of confidence all the way to the Australian Championship podium.
Luke Weel (Vic)
When it comes to locals, there is no stronger Australian Championship contender than Weel. After a flat tyre denied him of a probable Victorian Title victory, Weel, who last weekend picked up the honours in the Front Row Challenge, is currently in a fantastic form.
It hasn't been the best of seasons so far for Weel, but he is coming good at the right time of the season: Australian Championship time. Over two of the past three Australian Championships, Weel has qualified on pole position for the feature race but lady luck has denied him the top spot on the podium. With form on his side, Weel is no doubt going to be a front-running contender.
Dayn Bentvelzen (Vic)
Rarely finishing off the podium so far this season, Bentvelzen is without a doubt one of Victoria's toughest competitors, as evident in the Victorian Title recently, when he crossed the finish line in first place, only to be stripped of the honours after failing to report directly to the tech inspection post-race.
On the quest for redemption, Bentvelzen, who will be making his Australian Championship debut, has a lot to prove when he takes to the track this weekend, and it will be that motivation that will no doubt see him challenging for the Australian Championship crown in the final stages of the event.
Joel Chadwick (SA)
No one but Chadwick could have filled the number one spot for drivers likely to clinch the Australian Championship crown this weekend. It's not only his mantle as Australia # 1 that's on the line, but also his chance at etching his name into the history books as the only driver ever to achieve an Australian Championship three-peat.
That's a whole lot of pressure for any driver to face, particularly amongst an interstate crowd, but if anyone can do it, there's no doubt that Chadwick can, especially given the successful season he is enjoying so far.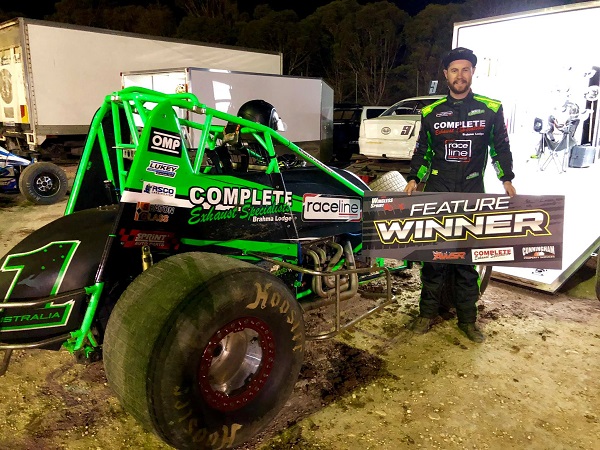 To view the full Australian Championship nominations list, visit the following link: www.awsr.com.au/event/702.
Getting underway with scrutineering, practice and the calcutta on Thursday, February 21 the last of the scrutineering will be completed on the morning of Friday, February 22 before drivers contest two rounds of heat races on Friday night, with the top-40 drivers in the point standings going on to complete two odds and evens preliminary feature races.
The first four finishers in these preliminary feature races will qualify directly into Saturday night's feature race and will compete in the Champions A-Scramble to determine their starting positions.
Following the opening night of competition, the top 96 cars in points, excluding the eight drivers who have already qualified for the feature race, will return to the track on the Saturday night of February 23 to contest a final round of heat races. The top 8 in points will then qualify directly into the feature race and will compete in the Mid-Pack B-Scramble to determine their starting positions.
The next 32 drivers in the point standings will qualify directly into two B mains, while other competitors will contest one of four non-qualifier events to determined qualifications into the D main and two C mains, with the top four in each main progressing through to the back of the next main.
Once these mains are complete and the final feature-race transferees are confirmed, 24 drivers will take to the track for the 40-lap Australian Championship feature race.