By virtue of consistent performances in both rounds of the Ian Boettcher Race Parts Easter Trail last Friday and Saturday nights, NSW-based veteran Mark Blyton ended his Easter long weekend on a high, winning the final round and also coming away with the overall Easter Trail point standings victory.
Collecting a runner-up finish in the opening Easter Trail round at Toowoomba's Hi-Tec Oils Speedway on Good Friday, which doubled as the Queensland Title, supported by Speedway Queensland, Blyton managed to go one better the following night in the second and final round at Brisbane's Archerfield Speedway, supported by OZTRAX Earthworks. Leading the feature race from start to finish, Blyton claimed the win, wrapping up the Easter Trail in the process.
Equally as consistent throughout the weekend was newly-crowned Queensland Champion and fellow NSW-based racer Daniel Flood, who scored an impressive victory in round one of the Easter Trail, followed by a third-place finish at the Brisbane venue, earning him enough points to claim the runner-up spot, while fast-paced Glenn Wright's (Qld) fourth and second-place finishes throughout both Easter Trail rounds were enough to secure him third place in the overall point standings.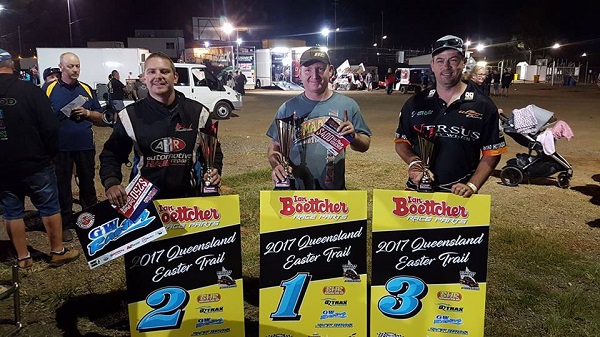 The opening Easter Trail round on Good Friday saw Flood clinch the Queensland Title victory, ahead of Mark Blyton and current and two-time NSW Champion Adam Butler (Qld) in second and third place respectively. Rounding out the top 10 were Wright, Kevin Willis (NSW), Luke Sayre (NSW), Jeff Neve (NSW), former Queensland Champion Marshall Blyton (NSW), rookie Chad Larkings (NSW) and David Eggins (NSW).
Mark Blyton was the best in round two of the Easter Trail, with Wright and Flood filling the minor podium places. The remaining top-10 finishers were Marshall Blyton, Sayre, Kristopher Johnson, Geoff Davey, Ashleigh Jack, Cody Boulding and Jamison Blyton.
Wingless Sprints Queensland would like to thank the major naming-right's sponsor of the 2016-17 Easter Trail, Ian Boettcher Race Parts, for their support, along with fellow sponsors Speedway Queensland (Qld Title Major Sponsor), OZTRAX Earthworks (Round 2 Major Sponsor), GW Racing, BHR Fabrications, and Jack Bros.
For more information on Wingless Sprints Queensland, contact Johnno Cave on 0421 722 254 or visit their website at www.awsr.com.au/qld. You can also LIKE them on Facebook by searching Wingless Sprints Qld.