Though a strong line-up of host-state racers gave it everything in an effort to claim Sunday night's NSW Wingless Sprint Title at Lismore Speedway, it was Queenslander Adam Butler who dashed their hopes.
Heading up a small contingent of Queenslanders, off the back of a third-place finish in Friday night's Queensland Title at Toowoomba's Hi-Tec Oils Speedway, Butler, who finished fifth in last season's NSW Title, was in solid form from the outset, qualifying in pole position for the 30-lap NSW Title-deciding feature race, by virtue of his strong performance throughout the heat races.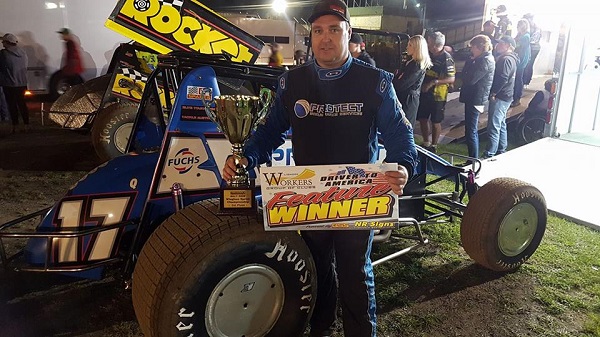 Seizing the lead from the drop of the green flag on what were very challenging track conditions, Butler was able to hold off his rivals for the full 30-lap distance, crossing the finish line to score his second-career NSW Title victory. After former NSW Champion and local Mick Santin and youngster Luke Sayre were battling for position in the opening stages, Sayre was gifted the runner-up spot on lap 11, when the former retired to the infield with a mechanical issue, and he managed to hold on to it through to the fall of the chequered flag.
Local Robert Mazzer made his way forward from sixth to claim the final podium place, ahead of newly-crowned Queensland Champion Daniel Flood, who was riding a wave of confidence off the back of Friday night's win and claimed his second fourth-place NSW Title finish in a row, and Brad Claridge in fourth and fifth place respectively. David Eggins, rookie Chad Larkings, John Slack, Ashleigh Jack, Peter Granger, Graham Flood and Steve McInnes completed the remaining finishers.
Joining Santin on the infield was father and son duo Mark and Jamison Blyton, along with Michael Butcher, Kevin Willis, the Queensland-based Bugden brothers Michael and Jayme, and Adam Bailey.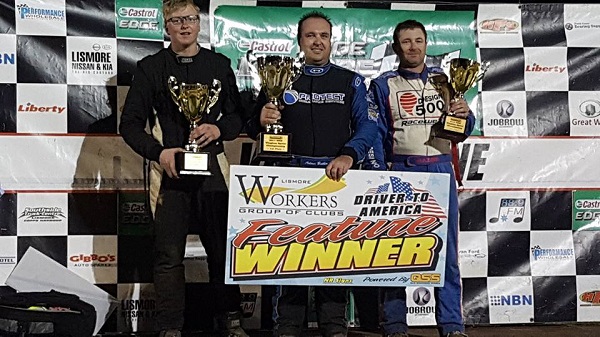 There were no two winners the same in the earlier heat races, with Slack, Mazzer, Claridge, recently de-throned Queensland Champion Trent Martin, Butcher, Thistleton, Butler and Eggins each coming away with a win.
The B main saw Mark Blyton claim the victory, ahead of Jack, Larkings, Mock and McInnes, who all tagged onto the back of the feature-race field.
Defending NSW Champion Jason Bates chose not to contest event, along with minor podium place finishers Jeff Thomas and Victorian Luke Weel.
To find out more about NSW Wingless Sprints, visit their website at www.awsr.com.au/nsw, or LIKE them on Facebook by searching NSW Wingless Sprints.