After a dramatic end to the action-packed feature race in Friday night's Queensland Wingless Sprint Title, supported by Speedway Queensland, at Toowoomba's Hi-Tec Oils Speedway, it was NSW-based Daniel Flood who led the field to collect his maiden state title victory.
With the Queensland Title-deciding feature race being declared just 26 laps into the schedule 30-lap distance, due to a heavy crash involving Brisbane-based rookie Cody O'Connell, Flood (NSW) was announced as the winner, having been leading the race since lap 12, after working his way forward from fifth.
While Mark Blyton (NSW) had managed to pip pole-sitter Adam Butler for the lead on lap two, he was unable to fend off the advances of Flood, slipping back to second in the middle stages of the feature race, where he remained to clinch the runner-up spot. Falling victim to Flood and Blyton, Butler was forced to settle for third place.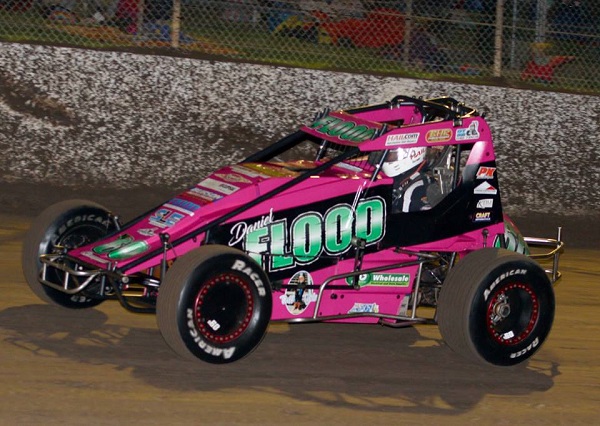 Photo: The Carrells
Finishing just off the podium in fourth was Glenn Wright (Qld), ahead of other top-10 finishers Kevin Willis (NSW), Luke Sayre (NSW), Jeff Neve (NSW), former Queensland Champion Marshall Blyton (NSW), rookie Chad Larkings (NSW) and David Eggins (NSW). Rounding out the remaining finishers were Geoff Davey, Mason Cattell (NSW), Graham Flood (NSW), Jamison Blyton (NSW), Ashleigh Jack (NSW), Robert Mazzer (NSW), Steven Gravino, Paul Robinson, Michael Butcher (NSW) and Kris Johnson (NSW).
The first of the premature retirements was Brendan Webber on lap six, followed by Cody Baulding (NSW) and teenager Kyle Mock (NSW) in quick succession on laps seven and eight respectively.
Not commencing until midnight, due to a medical emergency in the crowd, the delayed feature race was called with just four laps to go, when O'Connell made contact with another car, launching him into a barrel roll and causing him to land heavily on the track. Being taken to hospital, where he was thoroughly examined after complaining of neck pain, O'Connell's condition has improved significantly and he hopes to return to the track as soon as possible.
In the heat races earlier in the night, Butler, Webber, Eggins, Sayre, Mazzer, Willis, Daniel Flood, Mark Blyton and Neve each collected a win, while Gravino was the best in the B main, securing his transfer spot into the feature race, along with Johnson, Jamison Blyton and Robinson. Defending Queensland Champion Trent Martin (NSW) was unable to advance out of the B main, after he had finished back in sixth.
For more information on Wingless Sprints Queensland, contact Johnno Cave on 0421 722 254 or visit their website at www.awsr.com.au/qld. You can also LIKE them on Facebook by searching Wingless Sprints Qld.