Veteran Daryl Logue's Australia Day celebrations reached new heights at Rosedale Speedway last Friday night, when he claimed top honours in the Victorian Wingless Sprints club show.
Despite being a multiple Victorian Division 2 Hot Rods Title holder, Logue, who is the brother of fellow Wingless Sprint racer Wayne, exceeded expectations during the Australia Day hit out, having only recently stepped into the class.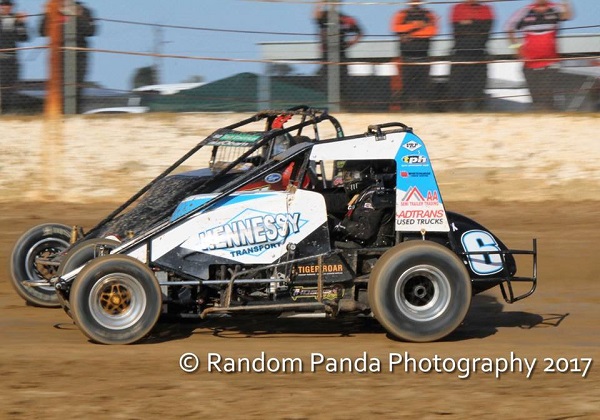 Photo: Random Panda Photography
Earning the pole position start for the 20-lap feature race by virtue of winning two of his three heat races and placing second in the other, Logue was able to capitalise on the consistency he had experienced throughout the night to deliver a faultless performance, managing to hold off second-placed Todd Hobson to come home in a pleasing first place.
While Hobson gave it everything he could to pip the eventual feature-race winner, he was ultimately forced to settle for the runner-up spot by a narrow margin. A solid drive from Jaidyn Job saw the driver achieve his maiden podium result, rounding out the podium in third place.
Finishing just off the podium in fourth place was Ricky Mills, followed by Jason Andreatta, Ben Grey, Marc Evans, Gavin Fitzpatrick, Travis Evans and final finisher John Rotheram in 10th.
Viv Rockliff was the first of four drivers to retire to the infield, with his night ending prior to recording a lap in the feature race. The ex-Formula 500 racer was later joined by Brittany Kuypers, Brett Kuypers and Belle Robinson.
With Logue picking up two heat-race victories earlier in the night, the remaining three wins were shared between Andreatta, Hobson and Mills.
For their next appearance, the Victorian Wingless Sprints will head to Warrnambool's Premier Speedway to contest their fifth AutObarn Super Series round on the Saturday night of February 10.
For more information about the Victorian Wingless Sprints, visit their website at www.awsr.com.au/vic. You can also LIKE them on Facebook by searching Victorian AWSR Wingless Sprintcars.